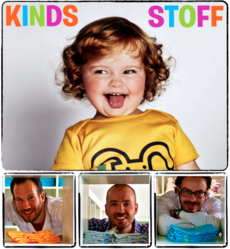 Los Angeles, CA (PRWEB) November 01, 2012
KINDS STOFF starts baby fashion from scratch. Online only and without the middlemen, we create affordable premium baby clothing. Stylish, organic, Made in California. Besides all that, we've set out to solve the problem that kids grow but clothes don't.
More than a year ago Alexander Reichhuber, Sebastian Schmoeger and Robert Rebholz started to rethink baby fashion. Their vision was to launch the world's first web-only baby fashion label, since they had realized that by creating fashion on the web, they'd be able to offer premium clothing at really good prices.
Ultimately, KINDS STOFF aims to solve the problem that kids grow but clothes don't: KINDS STOFF will give parents the possibility to send back their children's outgrown clothes for free, in return for a discount on their next purchase. At least every third returned item in good condition will then be donated to a child charity. Like that the label doesn't only solve one of parents' major problems when it comes to dressing their kids but furthermore does good.
To achieve this and to make the founders' vision of affordable premium baby clothing a reality they just launched a Kickstarter campaign that enables people to pre-order products (for babies 0-24 months). The campaign only runs for a very limited time and if they don't reach the funding goal the project will not be realized.
KINDS STOFF is a new way. Together, we can make it happen.
It's not just about creating great clothing at really good prices, it's not just about solving one of parents' biggest problems when it comes to dressing their kids, but it's also about bringing 'Made in USA' back!
All baby clothing that customers pre-order via Kickstarter will be produced in California, where KINDS STOFF teamed up with a factory that is renowned for their high-quality products, their social responsibility and their eco-friendly production. Only the best organic cotton and eco-friendly inks will be used.