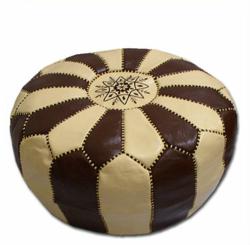 Long renowned for their comfortable and luxurious feel, these Moroccan poufs are considered a hot item for home owners who are looking for comfortable seating or foot rests
Miami, FL (PRWEB) November 01, 2012
Berber Trading recently added four new tall pouf designs to their Moroccan furniture collection. The new tall poufs come in bronze, dark brown, silver and gold color and is a Berber Trading company exclusive. Long renowned for their comfortable and luxurious feel, these Moroccan poufs are considered a hot item for home owners who are looking for comfortable seating or foot rests. They also make ideal gifts during the holiday shopping season. Poufs are also known as leather hassocks.
The new exclusive tall poufs are made from supple and rich faux leather measuring 14.5 inches in diameter and 16 inches in height. All the leather poufs are fully filled and zippered from the bottom for easy care. The content is made from 100% polyurethane and home owners could easily clean them by wiping them with a damp cloth. These new exclusive tall poufs are stuffed with EPS filler and poly fiber.
The new tall poufs are an excellent addition to the current range of Moroccan leather poufs that are offered by the company. The other Moroccan poofs are made from world renown Moroccan soft leather and are available in different colors of aqua, red, white, saffron yellow, silver, turquoise, orange, blue, grey and dark green. These measure 19 inches wide and are 13 inches wide – perfect for modern homes with their bright colors.
Home owners who are looking for those that come with different color combinations and hand embroideries will be thrilled to know that the company also offers Rabat camel poufs which are hand stamped with traditional Moorish designs. They measure around 22 inches wide and 14 inches high and are ideal either for seating or as a comfortable foot stool.
The Tarz Moorish Poofs are intricately designed and embroidered in India. They can be used as floor cushions and come in measurements of 24 inches wide and only 8 inches high. Home owners may also want to use them as decorative sofa cushions due to their beautiful patterns.
The company's Hanbal Poofs or Hanbal hassocks are made from old Moroccan wool hanbal. Although they are priced per item, people normally buy them in a pair and they measure 17 inches wide and 18 inches high.
Berber Trading's online store is powered by InstanteStore, a professional shopping cart provider.
Customers who wish to see the actual products could visit Berber Trading's physical store which is located in 2622 North Miami Avenue, 33127 Miami, Florida (Monday – Saturday from 11.00am to 6.00pm EST) or visit their website at http://www.BerberTrading.com. Customer service could be reached via phone number 305-572-0118 or through the website's contact form since email is preferable.