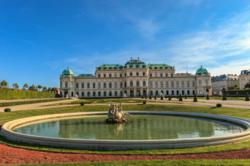 Savings of up to £1000 per person if you book before the end of November
London (PRWEB UK) 5 November 2012
The DRTV Centre's latest TV commercial for Viking River Cruises highlights a number of enticing European destinations including Vienna, Amsterdam, Budapest and Cologne. The campaign will run nationally throughout November on all main UK TV networks. It features savings of up to £1,000 per person - but only if customers book before the end of November.
The DRTV specialist agency CEO, David Pearson, commented: "TV is the perfect medium for advertising holidays as we're able to show appetising destinations and in Viking's case, a truly fabulous on-board experience. River cruising is now the fastest growing segment of the travel market, and Viking is the world's leading river cruising company".
At most ports of call the Viking cruise vessel docks in or near the heart of each city, so passengers simply step ashore to see all the local sights. A much praised feature is the food on board – and there's complimentary wine with lunch and dinner. Guests often comment too about how friendly Viking Cruises are, with many making lifelong friends with their fellow travellers.
The new Viking TV commercial promotes an exclusive November offer - savings up to £1,000 per person – meaning that cruises are available from just £1,195 per person.
All Viking cruises offer remarkable value for money. Just about everything passengers need is included:

Return flights from the UK
Deluxe ensuite accommodation with river views
All on-board meals
Specially selected wine, beer and soft drinks with lunch and dinner
A wide range of guided tours to "must see" attractions and World Heritage sites
A cultural enrichment programme for an in-depth understanding of the places you visit
Viking River Cruises operates the world's largest and leading fleet of deluxe vessels built specifically for river travel. With its fleet plying the waterways of Europe, Russia, Ukraine and China, Viking has welcomed more than half a million people on magical, enlightening journeys through these exciting places.
Viking ships are Scandinavian in design, with open, airy interiors. Guests enjoy all the amenities they might expect in a fine hotel, plus expansive, panoramic views throughout. Small wonder the Viking slogan is "Exploring the World in Comfort".
The DRTV Centre company details:
The DRTV Centre was established 15 years ago in London.
It is the first and only advertising agency in the UK to specialise exclusively in direct response television.
The agency provides everything clients need to mount successful DRTV campaigns - strategies, idea creation, script writing, storyboards, research, casting, location search, film/video production, music, voice-overs, transmission copies, channel selection, TV airtime booking, call centre selection and response analysis.
For further information, visit The DRTV Centre or call David Pearson at The DRTV Centre on 0800 635 9000 or email david(at)drtvcentre(dot)com).