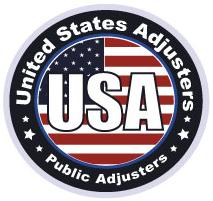 The Nation's Leading Public Adjuster and Loss Consultants
(PRWEB) November 01, 2012
Attention Business Owners and Homeowners that suffered damage from Hurricane Sandy. United States Adjusters represents the policyholder only. Using a Public Adjuster will ensures the policyholder will receive the maximum possible hurricane settlement. Remember the insurance company has adjusters that work for them (an inherent conflict of interest), United States Adjusters works for the policyholder and protects their interest.
Hiring the right public adjuster: The Public Adjusters at United States Adjusters have decades of experience assisting policyholders with their property damage insurance claims. They have adjusted thousands of Hurricane claims over the years ranging from multimillion dollar commercial losses to smaller residential claims. When it comes to Hurricane damage be sure to hire public adjusters with the proper experience level and knowledge needed to obtain the best possible insurance settlement. Also make sure the company is well known, carries errors and omissions insurance, and has the necessary catastrophic adjusting experience needed to adjust Hurricane Sandy claims. It should be known that only handful of Public Adjusting firms are qualified and United States Adjusters is one of them.
How will United States Adjusters assist: After a Hurricane Sandy, the recovery process will be overwhelming, the majority of policyholders will not have the time or the expertise to properly insure they will receive the type of settlement they are entitled. The professionals at United States Adjusters will guide the policyholder through the claims process by documenting the loss, writing a detailed estimate and lead the meetings with the insurance company in order to negotiate the best possible settlement outcome.
United States Adjusters team of Public Adjusters, Insurance Appraisers and Loss Consultants will allow the policyholder the peace of mind by knowing one of the top Public Adjusting firms in the Country are handling their claim. They will move it along diligently in order to secure a settlement that will allow them put the property back to pre loss condition in the shortest amount of time.
Email United States Adjusters at info(at)usadjusters(dot)com or visit their website at http://www.unitedstatesadjusters.com.
Hurricane Sandy Hotline: 1-800-872-0201