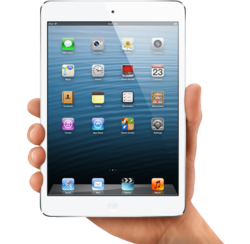 Small enough to fit into an apron, big enough for all eyes and hands to use efficiently.
Buffalo NY (PRWEB) November 02, 2012
The first ever iPad launched in April, 2010. Of the folks who waited in line for hours to purchase the device, few imagined the truly enormous potential they held in their hands. To many, it was just a toy, a glorified iPod with a 9.7in display. Others saw limited potential, a tool to access the internet, play video games and send emails and text messages. James O'Leary and Ansar Khan saw the real value that would manifest itself in an iPad POS called Ambur.
With the iPad, Ambur POS has changed the way hundreds of restaurants function by creating the perfect go between for restaurateurs. It gives them access to a fully functional system without spending outrageous amounts of money or simply relying on paper tickets and a basic cash register.
Apple touch devices have brought unmatched mobile capabilities to locations across the country, from upscale bars in NYC, to diners in the southwest, to food trucks in San Francisco, and to cabin resorts in the Dakotas.
iOS products such as the iPad and iPod Touch have significantly changed the way servers interact with their guests. Some restaurants allow their servers to carry iPads to their guest's table, while others prefer to keep the iPads mounted to a counter, and use iPod Touch devices at the table side.
As small as the iPad is in comparison to traditional POS terminals, it's still a bit too bulky for servers to use, without sacrificing their ability to carry food as well. The iPod is small enough to slide right into a server's apron, but some say it's just too small to use quickly.
Now this is where the iPad mini comes in, small enough to fit into an apron, yet big enough for all eyes and hands to use efficiently. It's finally possible to send tickets to the kitchen, process credit card transactions and connect with guests in a way that was only a dream 5 years ago. The Apple iPad mini is a new driving force for the iPad POS revolution, and O'Leary and Khan have taken hold of the reigns.
Ambur Point of Sale is an iPad based POS system, founded in April, 2011 in Buffalo, NY. It was founded on the basis that traditional systems were outdated, slow and unnecessarily expensive. Ambur is a powerful alternative, an intuitive option for those who want to break away from the norm and take control of their business.