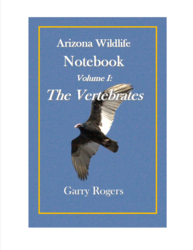 Amateur and professional naturalists need this book.
Humboldt, AZ (PRWEB) November 01, 2012
Dr. Garry Rogers published the wildlife notebook to assist with recording wildlife sightings. Wildlife and its habitat are disappearing worldwide. According to data released by the Arizona Game and Fish Department, 56% of Arizona's native vertebrate species are in serious decline. Those that spend all or part of their life cycles in water, amphibians and fish, are the most imperiled. Those that are mobile or migratory, mammals and birds, are less imperiled, but even so, almost half are at risk.
Conservation Status of Arizona Vertebrates*
Total species, imperiled species, and % imperiled species are given for each species group.
Amphibians 33 23 70%
Bats 33 26 79%
Birds 548 264 48%
Fish 43 42 98%
Lizards 64 38 59%
Mammals 180 83 46%
Snakes 76 60 79%
Turtles 15 15 100%
TOTAL 992 551 56%
*Data from Arizona Game and Fish Department
**Group divisions by Garry Rogers
Records of species distributions are a critical component of conservation planning. Checklists like those in this book are useful tools for recording distributions and detecting changes. Ideal checklists target specific areas such as valleys, watersheds, parks, neighborhoods, or backyards. Such checklists are uncommon.
The Arizona Wildlife Notebook will help amateurs and professionals develop regional and local wildlife checklists. The book contains eight checklists that include all the amphibians, bats, birds, fish, mammals, lizards, snakes, and turtles that observers might see in Arizona. An introduction to each checklist provides references to field guides and notes on conservation concerns. Symbols in the checklists show each species' conservation status.
Dr. Rogers says there is a second reason for publishing this book:
"Some people have a condition known as biophilia. Biophiliacs have a nagging concern for the welfare of wildlife, and they collect books. Not just any books, they collect books about animals, plants, and habitats. As the condition progresses, the biophiliac fills shelves with dog-eared field guides and species accounts littered with handwritten notes. I compiled the Wildlife Notebook to ease the anxiety that comes from lost notes and faded memories of the reasons for folded corners of field guide pages. The Notebook does this by giving biophiliacs a place to consolidate their notes and ideas."
About Garry Rogers
Before becoming a full-time writer, Dr. Rogers had careers in science and business. He has a PhD in Physical Geography with emphasis on Synecology. He served on the faculty of Columbia University and studied ecological dynamics in North American deserts and the Atlantic coastal plain. He now lives in Humboldt, Arizona, and serves as President of the Agua Fria Open Space Alliance (https://aguafriaopenspace.org).
Contact Information
Wildlife observers can learn more about Garry Rogers' work on wildlife conservation at https://GarryRogers.com. Sample chapters from this book and a second on Arizona invertebrates are available on the nonfiction page on the website. Buy the book at walk-in bookstores and online at The Naturalist's Bookstore (http://bit.ly/QAsJX6). Contact Dr. Rogers at grogers(at)sigmaxi(dot)net or (928) 925-7191 for more information.