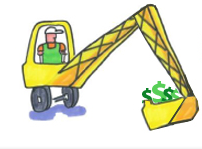 The service features hotel construction, office buildings, retail construction, medical facilities, school renovations and much more, including those hard-to-find private project leads, from planning stage through completion
Chicago, IL (PRWEB) November 01, 2012
Construct-A-Lead, the Construction Industry's most effective construction lead service, reported today that the following retail construction projects have secured the approvals necessary to move forward. Businesses interested in establishing early relationships and providing services relative to these projects should visit construct-a-lead.com and reference the Project ID listed below to obtain direct contact information for each lead:
Portland, OR - Grant Park Village. Construction of a New Seasons Market-anchored commercial development to include, a 34,500 square foot grocery store, with additional retail for a total of 47,000 square feet, plus a parking garage and three stories of apartments. Construction start: Early, 2013, $60,000,000. Project ID: 1300238
North Plainfield, NJ – Costco. Construction of a new 156,000-square-foot retail store and gas station. Construction start: Q1, 2013 $12,000,000. Project ID: 1301101
Santa Maria, CA - The Santa Maria Town Center. Revitalization of the mall's common areas to help attract nationally known restaurants and retailers. Also included, construction of a 14-screen cinema, a soccer training facility, full-service baseball and softball center, and a skateboard park on the mall's second floor. Construction start: Late fall, 2012, $40,000,000. Project ID: 1301049
Pooler, GA - The Outlet Mall of Georgia. New construction of a 560,000-square-foot luxury outlet mall with four anchor retailers on a 170-acre site. Construction start: Spring, 2013, $200,000,000. Project ID: 1300964
Austin, TX - Lakeway Retail. Plans call for the new construction of 48,000 square feet of retail, 5,000 square foot restaurant and a 5,000 square foot bank building. Construction start: Early, 2013, $9,000,000. Project ID: 1299837
Park Ridge, IL - Whole Foods Market. Construction of a new 38,000-square-foot market with 148 additional parking spaces. Construction start: Late, 2012, Early, 2013. $5,000,000 Project ID: 1300866
Attleboro, MA - South Main and Wall streets. New construction of a mixed use development to include, 70 to 80 garden-style condominiums, with 6,000 square feet of commercial space on the ground floor and underground parking. Construction start: July, 2013, $6,800,000. Project ID: 1300835
Charlotte, NC - Publix Super Markets, Ballantyne. Plans call for the construction of a new 56,000-square foot store. Construction start: Q1, 2012, $9,000,000. Project ID: 1300147
Construct-A-Lead.com is an online construction projects database, helping contractors, service providers, manufacturers, distributors, suppliers and businesses in related industries gain information on all large scale commercial construction projects. The service features multi-family residential construction, hotel construction, office buildings, retail construction, medical construction, mixed use developments, school renovations and much more, including those hard-to-find private project leads, from planning stage through completion. Construct-A-Lead's daily updates of commercial construction project leads are an ideal solution for those who want to put their product or service into commercial, government and religious structures.
For more information on upcoming construction projects in your area, visit Construct-A-Lead online or call 855-874-1491