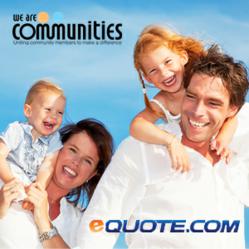 Many people don't understand the importance of life Insurance. My hope is that people will investigate credible companies providing affordable coverage to protect their family and loved ones, as stated by foundation founder Jon Dessel
Ontario, CA (PRWEB) November 01, 2012
We Are Communities Foundation today is proud to announce that EQUOTE is a new sponsor providing the best life insurance products and service to our community members. Since the downturn of the economy in 2008, many people found themselves in a position where they couldn't continue to pay their life insurance premiums and therefore were canceled by their insurance provider. This puts a family at extensive financial risk. Life insurance is important for protecting the family from financial hardship in the event of death to a primary income earner. Life insurance will protect a family if they don't have enough coverage to cover the family's living expenses.
Due to the importance of life insurance, We Are Communities Foundation has partnered with EQUOTE to provide our members with the best choice for affordable life insurance. Furthermore, EQUOTE is a strong advocate of veteran affair programs which is directly aligned with goals and projects supported by We Are Communities.
Jon Dessel, Founder and CEO of We Are Communities Foundation Commented:
"There are many insurance companies, agencies, brokers, and individuals in the life insurance industry, but the founder of EQUOTE, Richard Wira, is by far the most credible and knowledgeable person I know of in this industry. I can only recommend companies and individuals that I trust will provide honest and quality services to my members. We only align our foundation with the best-of-the-best organizations and associations that are making a difference in our world today and into the future. Our partners must adhere to the highest level of ethics and transparency, while being able to prove their ability to optimize the use of fundraising proceeds provided to them. EQUOTE is a perfect sponsor partner for us not only because they provide a valuable service, but because they represent the right causes in America."
To obtain more information regarding EQUOTE and receive a free quote, go to http://www.equote.com or We Are Communities Insurance Inquiry Site at http://www.weareinsurance.net
We Are Communities Foundation is dedicated to supporting veterans by working with corporate sponsors and foundries to create employment opportunities here in America. Over the past decade over 2.4 million U.S. jobs were lost to outsourced overseas firms. A significant number of these jobs were light manufacturing and service (such as help desk and call center positions). There are over 238,000 jobless veterans that are capable of doing such work. It is our goal to assist in creating jobs for veterans and bringing these jobs back to America.
About We Are Communities Foundation
Founded by Jon Dessel. It is the mission of We Are Communities Foundation to be the promotional force for non-profit organizations throughout the world. Our "Make-A-Difference" system unites commercial businesses with the community they serve to create a self-sustaining economic program for non-profit organizations. We raise funds for valid education, health, environmental, and community-based programs in support of the advancement of man-kind. We provide a platform for promoting companies that embrace standards of corporate social responsibility creating a sustainable network of good-will for the benefit of all. Phone: 866-947-7922 Email: info(at)wearecommunities(dot)org, Web Site: http://www.wearecommunities.org
About EQUOTE
Since 1998, EQUOTE has been providing our valued customers with the lowest cost affordable term life insurance products, including no medical exam life assurance, from our California offices located in San Diego. As brokers we shop around for you to get you the most affordable coverage for your specific needs, we complete all the forms for you, and we help you every step of the way. We are here to help you purchase the protection you need at the lowest possible price. We offer life insurance quotes online, rates, and information with simple, straight talk. Now EQUOTE has added Annuities and Long Term Care plans to offer you more and better options to protect yourself and your family. After all, that is what life assurance is for: Protection for yourself and your family. Phone: 800-354-1666 Email: dhokstad(at)equote(dot)com, Web Site: http://www.equote.com