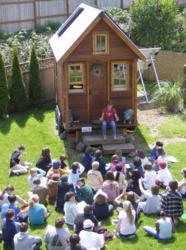 I downsized, well smart sized myself. My $5 utility bill makes me feel like a winner
Minneapolis, MN (PRWEB) November 01, 2012
Tumbleweed Tiny House Company is hosting a workshop in Minneapolis on November 3rd and 4th with the keynote speaker being an actual Tiny Home owner. In 2004 Dee Williams purchased her small house plans from Tumbleweed Tiny House Company. She built her 84 square foot home using recycled materials and has lived in it ever since. Ms. Williams' two day talk will include shared building ideas and in-depth information on the philosophy behind tiny home living. The Tiny House workshop will take place at the Lake Nokomis Recreation Center located at 2401 E. Minnehaha Parkway and tickets can be purchased by visiting our link.
Dee Williams' brand of green living has complemented the Tiny Home movement, making it easier for Tiny Home designers, such as Tumbleweed Tiny House Company, to introduce affordable housing to the masses. The Tumbleweed Tiny House Company has set up several events around the US, such as the one in Olympia, to provide the public with real Tiny House dwellers who are using their small homes to make a big difference.
"The cost of owning a house was socially not what I wanted to be about," says Dee Williams, who recently was featured in Time Magazine and on the cover of "Yes" magazine. "I downsized, well smart-sized, myself. My five dollar a month utility bill makes me feel like a winner. Because of my Tiny Home I have developed a better relationship with nature. I'm looking forward to sharing all of these great experiences with the people of Olympia this month."
Tumbleweed Tiny House Company is proud to have Dee Williams as an advocate for the movement and their company. The Minneapolis workshop takes place daily from 9am until 5pm. Tickets start at $399.00 and seating is very limited. Attendees will learn the fourteen basic tools needed to build a Tiny Home, how to select the best materials, the types of heaters and toilets best suited for these homes, and the nuts and bolts of how to build a house.
Tumbleweed Tiny House Company isn't just a business, it is a movement. With over twenty models to choose from, the company designs homes with a socially responsible platform. Tumbleweed markets houses that range from 65 square feet to 874 square feet. The company is founded by tiny house guru Jay Shafer - who is a recognized leader in popularizing the tiny homes concept. For more information on the company, Dee Williams, or to view the homes, please visit The Tumbleweed Tiny House company online.