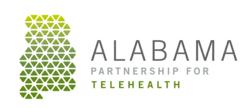 "The enthusiasm of attendees was contagious. TeleHealth is key to reforming healthcare. It is the most efficient, high quality cost effective means of providing access to healthcare." Paula Guy, CEO APT
Prattville, AL (PRWEB) November 07, 2012
Alabama Partnership for TeleHealth, Inc & Connecting ALABAMA, partnered for a successful first annual Connecting Alabama: Broadband &TeleHealth Summit with over 200 attendees. The Summit was Alabama's first conference designed to bring together individuals and organizations interested in advancing broadband and telehealth services throughout the state. The Summit was held on October 17-19, 2012 at the beautiful and comfortable Marriott Legends at Capitol Hill, Prattville, Alabama.
The conference opened on Wednesday with a welcoming video of Governor Robert Bentley on the wide screen and followed by opening remarks from Mr. Ron Sparks, Director of Alabama Office of Rural Development. Senator Brian Taylor welcomed the crowd to Prattville and commended the interest of those present to advance Broadband and TeleHealth services in the state. Plenary speakers included Cynthia Rodgers, a national motivational speaker, educator and entertainer who works with women, children and youth living with or affected by HIV/AIDS at the University of Alabama at Birmingham and Carl Taylor, the Executive Director of the Fraser Institute for Health Research, a New Jersey think tank whose work focuses on emerging health trends, health reform, market dynamics and innovation. Included on the agenda was Jonathon Linkous, American Telemedicine Association, CEO, Sherilyn Pruitt, Director of the Office for the Advancement of TeleHealth in Washington, DC and Dr. Melinda Rowe, the Assistant Medical Director of the Alabama Medicaid Agency. Local, state, and national speakers presented a wide variety of topics to include: Broadband Initiatives & Webb Technologies, Industry Innovations, Healthcare Trends, Aids OutReach, and an array of Telemedicine Applications: TeleStroke, TeleTrauma/Emergency, TeleGenetics, Nursing Home Telemedicine, School Based TeleHealth, and TelePsychiatry.
The overwhelming interest in this summit demonstrates the interest and determination of state, local, public, private, and healthcare officials, practitioners, and innovators to advance broadband and telehealth services across the state of Alabama.
"Evaluations of the conference were soaring," says Paula Guy, CEO APT. "The enthusiasm of attendees was contagious. TeleHealth is key to reforming healthcare. It is the most efficient, high quality cost effective means of providing access to healthcare. It is no longer about technology. It is applying it! Alabama is blessed to have Governor Bentley and Ron Sparks leading this initiative. TeleHealth will change lives for the people of Alabama in getting the care they need."
Background:
The Alabama Partnership for TeleHealth, Inc. (APT), a charitable nonprofit corporation, is a new organization in Alabama with a focus on increasing access to healthcare through the innovative use of technology. In collaboration with Georgia Partnership for TeleHealth, Georgia's highly successful nonprofit state-wide TeleHealth network and the federally (OAT) funded Southeastern TeleHealth Resource Center (http://www.setrc.us), APT will strive to serve the citizens of Alabama by promoting and supporting new and existing TeleHealth programs across the state. http://www.alabamatelehealth.com
With the support of Governor Robert Bentley and Ron Sparks, Director of the Alabama Rural Development Office, the Alabama Partnership for TeleHealth will provide an opportunity for TeleHealth services to expand and provide greater access to healthcare to all of Alabama.
The Connecting ALABAMA initiative works with governmental, community/industry leaders and citizens from across the State to articulate a clear vision for Alabama's broadband future, and to develop regional technology adoption and growth strategies addressing the needs of communities in all 67 counties through 12 regional Broadband Action Teams. http://www.connectingalabama.gov