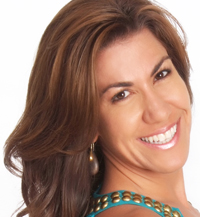 You should not only be aware of these two things – you should actually be on the lookout for them," Sasevich said, "so you avoid being sideswiped.
San Diego, CA (PRWEB) November 01, 2012
While some business owners choose to grow their companies step by step, others choose to make a quantum leap – making choices and taking action that gets results and grows the business quickly. In a newly released video clip from her sold out live Impact and Influence training event, Queen of Sales Conversion Lisa Sasevich shares 2 challenges entrepreneurs face when making a quantum leap – and advice for minimizing each one.
She calls them "the Illusion" and "the Trapeze."
"You should not only be aware of these two things – you should actually be on the lookout for them," Sasevich said, "so you avoid being sideswiped."
On the video clip, Sasevich explained that many of her students, whom she calls "Sassies," have experienced each of these challenges during their path to a quantum leap … and have been led to overcome them, finally achieving unprecedented results.
This year, Sasevich's Impact and Influence event sold out quickly, so she decided to share some of what she called the most powerful ideas, for free, on her blog.
Watch the complimentary video clip on Lisa's blog and discover:

A new perspective entrepreneurs can take when outside forces seem to be conspiring against them, just as they've finally decided to take a quantum leap
The right way an entrepreneur can react when those forces crop up
The difference in actions between entrepreneurs who make quantum leaps, and those who remain stagnant
How an entrepreneur will know when he or she has come up against one or both of these challenges
And more
For more information, or to watch the 2 challenges video clip, visit http://www.theinvisibleclose.com/articles/
Recently honored as one of America's Top Women Mentoring Leaders by WoW magazine, Lisa Sasevich, "The Queen of Sales Conversion," teaches experts who are making a difference how to get their message out and enjoy massive results, without being "sales-y."
Recognized sales expert by Success Magazine, and as one of 2012's fastest growing independently owned companies by Inc. Magazine, Lisa delivers high-impact sales-closing strategies for turbo-charging entrepreneurs and small business owners to great profits. According to best-selling author Brian Tracy, "Lisa Sasevich is one of the greatest discoveries in America today!"
After 25 years of winning top sales awards and training senior executives at companies like Pfizer and Hewlett-Packard, she left corporate America and put her skills to test as an entrepreneur. And in just a few short years, Lisa created a multi-million-dollar home-based business with 2 toddlers in tow. Lisa is the undisputed expert on how to make BIG money doing what you love.