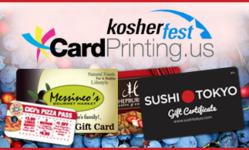 Monsey, NY (PRWEB) November 08, 2012
Tele-Pak CardPrinting.us, a leading printer of gift cards, loyalty cards, key tags, and member cards in the US and Israel, is proud to be in attendance at Kosherfest this year. The event will be held at the Meadowlands Exposition Center in Secaucus, New Jersey, from November 13-14, 2012.
Kosherfest is a much-anticipated yearly gathering for the Kosher food and beverages industry. Kosher consumers in the United States alone are pegged at 12,100,000. Year-round Jewish Kosher consumers amount to over a million people who buy Kosher products from around 125,000 US supermarkets. Fifty-five per cent of respondents in a 2009 study revealed they buy Kosher for health and safety reasons, 38% said they are vegetarians, and 35% like the taste of Kosher food.
It is safe to say that Kosher food and beverages comprise a huge industry. The dollar value of the Kosher market is $12,500,000,000. This makes the Kosherfest a much-coveted event by those who are not just participants in the Kosher food and beverage industry, but also by those who can promote and support it.
This is why Tele-Pak CardPrinting.us is extremely pleased to be a participant in the 2012 Kosherfest. The company is assigned to Booth 741 and will showcase the different plastic card printing products and services which have made it a much sought-after vendor for customized advertising and promotional print branding. Some of its innovative products include restaurant table talkers and pop-ups, customized store shelves and dispensers, fund raising cards, membership cards, plastic cards, gift cards, scratch-off games, key tags, hotel cards, scratch cards, ID tags and badges, and many more. Many supermarkets, specialty food stores, food companies and distributors, restaurants, hotels and hospitality establishments have benefited from Tele-Pak CardPrinting.us products and services, thanks to its quality output and fast turnaround time.
Further information and sample packs for other Tele-Pak CardPrinting.us products and services can be had by emailing info@cardprinting.us, or calling toll-free at +1-866-344-2300 for USA and Canada, and +1-845-426-2300 for international calls. Learn more about the many high-quality plastic and paper card products such as custom ID badges, key tags, fundraising cards, etc. at http://www.cardprinting.us/.