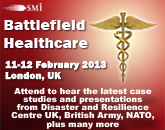 London (PRWEB UK) 1 November 2012
SMi's Battlefield Healthcare conference provides insight into how current systems in place to aid frontline casualty response and medical treatment can be improved. Balanced perspectives are provided from the military, scientific and medical domains in new treatments and procedures to decrease the risk of further fatalities and build upon the strides already made in healthcare on the battlefield and in the wider military community.
Key decision makers from around the globe will discuss proposed solutions to improve military healthcare, featuring case studies and presentations from our speaker line-up including Help for Heroes, NATO Centre of Excellence Military Medicine, Teva Pharmaceuticals, Estonian National Defence College, 201 Field Hospital plus many more.
For more information or to book your place please contact Teri Arri on +44 (0) 207 827 6162.
Register online at: http://www.smi-online.co.uk/battlefield-healthcare30.asp