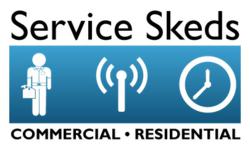 "We were able to effectively target the needs of the owners in the electrical industry"
North Richland Hills, TX (PRWEB) November 02, 2012
Service Skeds, the technology leader in Field Service Management mobile software, enjoyed two productive days at the Independent Electrical Contractors (IEC) convention in Fort Worth, Texas. The IEC is a national trade association for electrical and systems contractors. With almost 3,000 member companies in 60 chapters throughout the USA, the IEC serves as the voice of the electrical and systems contracting industry.
At the IEC convention, Service Skeds had the opportunity to meet with industry experts, electrical service owners, and managers from the electrical service industry. The two day convention yielded great interest for Service Skeds' mobile dispatch software. The morning of the first day of the convention had business owners walking around the convention and surveying the exhibitor booths, including Services Skeds'. There was a general consensus that the electrical industry needed a product like Service Skeds to help companies' mobile dispatch and make servicing their customers more efficient. The Service Skeds employees working the booth were able to demonstrate the Skeds software and provide more information about Service Skeds to electrical owners. "The first day of the convention was a huge success and we (Service Skeds) were able to effectively target the needs of the owners in the electrical industry," said Service Skeds President Stephen Chambers.
The night session of the convention was mostly attended by electrical technicians, which allowed Service Skeds to reach out directly to the technicians themselves. The final morning of the convention yielded more of the same interest that Skeds enjoyed the day before. Many companies who Service Skeds made contact with on the first day of the convention came by the next day seeking more information. Service Skeds was able to answer any questions that the industry professionals had by giving them a firsthand look at the Service Skeds mobile dispatch software. By the end of the convention, Service Skeds attained a high number of contacts and was able to become more prevalent in the electrical industry. This gives Service Skeds a wonderful opportunity to provide its service to the convention attendees and eventually, the electrical industry.
Service Skeds is a company that provides field service software to help businesses in the service industry to better manage their resources and offers software that is compatible with tablets, smartphones, and computers. Skeds software tracks technicians in the field, reduces data entry with digital documents, and tracks equipment history. Service Skeds is now offering a 30 day free trial for its services. For more information about the benefits Service Skeds' field service management software provides can be found at http://www.skeds.com. Contact Service Skeds at sales(at)skeds(dot)com or call 657 444-SKED (7533).