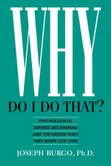 People seeking to get what they truly need in their relationships, to experience greater self-esteem and lead richer, more vivid emotional lives will find the tools to do so in Why Do I Do That?
Chapel Hill, NC (PRWEB) November 01, 2012
Have you ever wondered why you have trouble staying in relationships, or burst out in anger at the people you love? Do you wish this could change?
In his new book, Why Do I Do That? Psychological Defense Mechanisms and the Hidden Ways They Shape Our Lives, psychotherapist and popular blogger Joseph Burgo, Ph.D., explains how you can make this change happen.
Focusing on the unconscious forces known as defense mechanisms – those "lies we tell ourselves" that shield us from pain yet often drive our actions – Why Do I Do That? spells out in clear, simple terms, the emotional landscape giving rise to the feelings and behavior that can undermine relationships and happiness.
Why Do I Do That? gives readers the tools to:
● Know themselves better.
● Develop a vivid but manageable emotional life.
● Get more out of what they need from relationships.
● Develop realistic expectations for themselves that promote genuine self esteem.
To accomplish this, the book demonstrates defense mechanisms at play through vivid, engaging examples from Burgo's 30 years as a psychotherapist. For instance, there's the case of Alexis, a young woman who dates two men at once falling alternately in and out of love with each of them without ever progressing toward a fulfilling, longer-term partnership. There's also the story of David, who repeatedly seeks friendships in which he feels taken advantage of and inferior. Over time, his anger with this self-imposed role boils over. His friendships end in explosive confrontations, leaving him lonely and deeply unhappy.
Some readers may identify with these stories. Others may relate to the discussions of young spouses enraged at each other when their baby wakes them at night. Or people unable to fulfill their artistic promise. Of drug addicts, perfectionists and control freaks. Thanks to the book's accessible, cause-and-effect narrative, all readers will gain a thorough understanding of human sentiments, actions and choices that goes far deeper than mere recognition.
"Understanding the unconscious forces that shape our behavior is key to developing the mindset needed for growth and change. People seeking to get what they truly need in their relationships, to experience greater self-esteem and lead richer, more vivid emotional lives will find the tools to do so in Why Do I Do That? The key lies in acknowledging and facing the more difficult aspects of the human experience, detecting the hidden pain that causes the defense mechanisms that limit us to set in, and challenging them," says author Joseph Burgo.
A veritable therapist-in-a-book and guided course in self-exploration, Why Do I Do That? also provides practical, step-by-step exercises to help readers:
● Stop justifying their defense mechanisms.
● Get in touch with feelings they may have repressed or denied.
● Understand how hostility influences their relationships.
● Discover how shame, repression and denial affect their lives.
And much more.
ABOUT THE AUTHOR
Joseph Burgo, Ph.D., has practiced psychotherapy for more than 30 years. He pens the blog After Psychotherapy (http://www.afterpsychotherapy.com), with more than 50,000 visits per month. He also writes the blog Therapy Case Notes hosted on PsychCentral.com about issues arising during individual psychotherapy sessions, and the new Psychology Today blog called Shame.
Burgo has been a guest on numerous radio shows, including Radio Dr. Gluss (KFNX-1100, Phoenix), and quoted in the news internationally. He earned his Ph.D. from the California Graduate Institute in Los Angeles and has served as a board member, officer and instructor at a component society of the International Psychoanalytic Association.
ABOUT AFTER PSYCHOTHERAPY
On this popular blog launched in October of 2010, Burgo discusses personal growth issues from a psychodynamic perspective, which strives to acquaint people with the unconscious aspects of their lives. Its most visited posts include The Narcissistic Mother, Working With Borderline Personality Disorder, and Contempt as a Defense. In addition to its 50,000 monthly visits, After Psychotherapy has almost 7,000 Facebook fans.
PUBLICATION DATA: Why Do I Do That? Psychological Defense Mechanisms and the Hidden Ways They Shape Our Lives
● Paperback – 242 pages, 9 x 6 x 0.6 inches
● Publisher: New Rise Press (Chapel Hill, NC)
● Publication Date: October 29, 2012
● ISBN 10: 0-9884431-2-9
● ISBN 13: 978-0-9884431-2-9
● ISBN eBook: 978-0-9884431-0-5 (Kindle)
● ISBN eBook: 978-0-9884431-1-2 (iTunes, Nook, etc.)