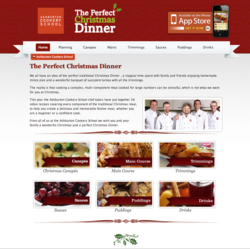 By following our free video recipes and organisational tips from our chef tutors, we guarantee you will have a delicious and stress-free Christmas meal.
Ashburton, Devon, UK (PRWEB UK) 1 November 2012
When asked to imagine the perfect, traditional Christmas Dinner most people conjure up a magical time spent with family and friends enjoying homemade mince pies and a wonderful banquet of succulent turkey with all the trimmings.
In reality though, cooking a complex, multi-component meal for large numbers can be stressful – just ask any chef. Yet home cooks are still expected to achieve this ideal each Christmas with little planning or cookery training.
This year, expert help is at hand as the chef tutors from the award-winning Ashburton Cookery School have released 26 free, online video recipes for home cooks at http://www.PerfectChristmasDinner.co.uk
Covering every component of the traditional Christmas meal, the videos will help home cooks to create a delicious and memorable festive feast, whether they are a complete beginner or more confident cook.
"Our website is an essential culinary tool to have at your fingertips in the lead in to Christmas," says Chef Director, Darrin Hosegrove. "The website is simple to use and will bring the Ashburton Cookery School's renowned training directly to you in your very own kitchen. There are lots of video recipes and essential tips from our chefs at the cookery school and the entire meal is covered, from brussels sprouts to sauces and the all important turkey. By following our video recipes and organisation tips, we guarantee you will have a delicious and stress-free Christmas meal."
The high-quality videos are available to watch online for free and the website offers essential tips and expert advice on everything from how to cook perfect crispy roast potatoes to creating beautifully succulent turkey.
Video recipes include:

Planning & Preparation
Christmas Canapés
Main Courses - Turkey and alternatives
All the Trimmings
Sauces
Puddings
Mulled Wine
A 'Perfect Christmas Dinner' iPhone app is also available on the Apple App Store priced at £1.99 ($2.99).
Further details on the Perfect Christmas Dinner can be found at the dedicated website http://www.PerfectChristmasDinner.co.uk.
For more information about the Ashburton Cookery School, please visit: http://www.ashburtoncookeryschool.co.uk.
Note to Editors:
Recently voted 'Cookery School of the Year 2012' by Food & Travel Magazine, the Ashburton Cookery School offers more than 40 cookery courses aimed at enthusiastic home cooks from beginners to advanced levels. The courses are delivered by a team of 7 accomplished chefs from their world-class culinary academy in Devon, England.