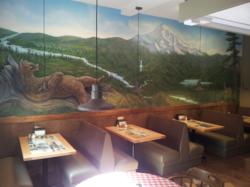 The Ivy Bear has been home to so much history and my approach to cooking has always been about creating great, memorable meals that bring people together.
Sandy, OR (PRWEB) November 01, 2012
En route to the snowy slopes of Mt. Hood, an old Oregon monument is waking up from its long winter's nap. The Ivy Bear, a local landmark that hugs Hwy 26, is coming out of its cave and sniffing the air. Something smells delicious. Something smells like pizza.
The Ivy Bear was originally constructed as a restaurant in 1945 by Alder Creek resident Rose Moody. Moody rescued neglected animals and kept them at the site to be visited by children. A favorite among Moody's rescued pets was a tamed bear who would open and drink bottles of Coca Cola. A large bear topiary was constructed in his likeness and the Ivy Bear found its name. The bear greeted guests up until the 1960's, when he passed away.
For many years the restaurant was a favorite for both locals and those on their way to and from the mountain above. In the summer, teenagers ran past the Bear's shadow on their way to the Sandy river and in the winter, skiers warmed their frozen toes beneath its tables. Legends about the Bear were passed from locals to superstitious skiers. One local resident remembered, "you never wanted to look the bear in the eyes."
Another reminisced, "The Ivy Bear was the one relief from noise for bus drivers taking kids to the mountains to ski. Kids had to be silent as they passed the Bear or that day they surely would break a leg."
Unfortunately, the bear topiary succumbed to age in the late eighties and its namesake fell out of commission for several years despite the best efforts of a few determined supporters. But the Bear is back! Both the restaurant and its sculpture are finding new life as their owners work to ready them for hungry guests. As the ivy begins to lace up the Bear's legs, aromatic smells of baking are spreading across the highway beneath its gaze.
Pizza chef Scott Olsen began the reboot with the desire to bring artisanal methods of pizza making to the Mt. Hood area. An avid skier, Olsen has been in love with Mt. Hood since he was a child. On the way back to his hometown of Salem, he would often wish for a hot slice to warm him up from the cold. After years of experience in the pizza business, Olsen found the perfect chance with the Ivy Bear to combine his love of Mt. Hood and its history with his true passion of perfecting pizza.
Using traditional Italian recipes (some of which date back over a thousand years) along with locally sourced ingredients, Olsen seeks to create a cozy, comfortable environment where guests can truly enjoy the food. "I have always believed that good food is really about the experience," Olsen says, "if you look back at family recipes over the years, the ones that survive are the ones that brought families together and created happy memories. The Ivy Bear has been home to so much history and my approach to cooking has always been about creating great, memorable meals that bring people together. I'm very excited to add to the legacy of Ivy Bear."