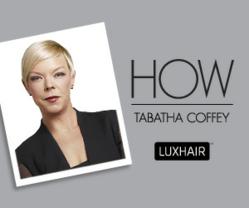 These aren't wigs or extensions, they're secret weapons.
Dallas, TX (PRWEB) November 01, 2012
Famed hairstylist Tabatha Coffey provides women with fashionable and versatile wearable hair with the creation of her own line of wigs and hairpieces: LUXHAIR™ HOW™. Her early roots in the hair industry and the twenty five years of experience with hair make tackling the wearable hair industry a natural progression in her career. As a professional who has worked with hair first-hand and understands the need people have for great hair, she is the ideal source for all things hair.
Christina Jones, host of the Wigs.com YouTube channel, interviewed Tabatha Coffey at an exclusive photo shoot for the LUXHAIR™ brand. Coffey expressed she created her own wig line to fulfill her desire to provide women with versatile quality pieces the hair industry was lacking. With her honest approach to hair she hopes to empower women with the confidence they need when opting for wearable hair for the first time. "These aren't wigs or extensions" says Tabatha, "they're secret weapons." Coffey made sure to take a hands-on approach in designing these pieces to ensure that each wig was created with her touch.
The LUXHAIR™ HOW™ collection is one of three celebrity-inspired wig lines (LUXHAIR™ NOW™ by Sherri Shepherd and LUXHAIR™ WOW created by Daisy Fuentes) composed of four fashion forward wigs (Smooth Shag, Sleek & Straight, Textured Gamine, Short Bob) and four cutting-edge Top-Head™ Extensions (Feather Light Fringe, Short Top Extension, Mid Top Extension, Long Top Extension). This line is the only one in the world to count with the latest innovation in hair, the Keralon Light™, a luxuriously silky and soft fiber. "It feels like real hair, it responds like real hair, it looks like real hair," Tabatha excitingly told Wigs.com, "and that's really, really important." Not only does Keralon Light™ mimic the natural properties of human hair but it is also incredibly lightweight – an important feature wig wearers look for.
The full LUXHAIR™ HOW™ collection is available at Wigs.com where you can watch the exclusive wigsTV interview with Tabatha Coffey. "We have always admired Tabatha Coffey's expertise" says CEO Carliz Sotelo-Teague, "and we couldn't be more excited to offer her amazing pieces to our customers."
About LUXHAIR™:
LUXHAIR™ shows women "HOW" to create "WOW" hair moments, "NOW" with a full wardrobe of fashion forward wigs, add-ons and extensions. Each line, LUXHAIR™ NOW™ by Sherri Shepherd™, WOW™ created by Daisy Fuentes and HOW™ created by Tabatha Coffey, offers a full wardrobe of styles, cuts and color options. These are the perfect accessories to experiment with the latest celebrity hair trends without the commitment -- easy-to-wear, accessible and fashionable hairstyles for any woman. LUXHAIR™ collections all use the proprietary and innovative LUXHAIR® Keralon™ synthetic fiber which has an amazing natural feel.
About Wigs.com:
For more than 15 years Wigs.com – The Wig Experts™ has been focused on wearable hair. It has established its name as the best source for alternative hair and related products. In doing so it has separated itself from the competition with the expertise and education offered to the public. Celebrity lines such as Raquel Welch, Jessica Simpson, Vivica A. Fox, Eva Gabor, Sherri Shepherd, Daisy Fuentes and many others have partnered up with Wigs.com because they acknowledge their experience and expertise. With detailed product videos, exclusive photos and the TruColor™ tool, Wigs.com is the ideal destination for wearable hair.