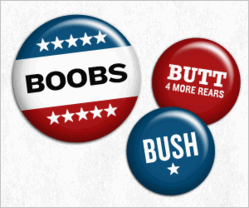 With so much divisiveness and partisanship in politics today, I wanted to bring people together with something we can all agree on—celebrity nudity
Chicago, IL (PRWEB) November 02, 2012
With the presidential election mere days away, Mr. Skin of MrSkin.com—the world's #1 resource for celebrity nudity—is asking YOU to decide the winner of a much more SKINteresting contest: Mr. Skin's Erection 2012!
Mr. Skin's crack team of experts has reviewed the year in celebrity skin on TV and in the movies, and they've narrowed down the contest to twenty-four of the absolute hottest nude scenes of the year.
Candidates include Sarah Silverman making her full frontal nude debut alongside Michelle Williams in Take this Waltz, Olivia Munn's long-awaited nude debut in Magic Mike, Anna Hutchinson nude in Cabin in the Woods, and a bevy of boob tube babes like Jessica Marais and Olga Kurylenko (Magic City), Taryn Terrell (Treme), Carice Van Houten (Game of Thrones), and more.
Here's where you come in: Starting November 1, 2012, viewers can watch all twenty-four clips FREE on Mr. Skin's Erection 2012 home page. From there, viewers can drag and drop their ten favorite clips into our official Erection 2012 ballot, ranking them in order from Commander-in-Cheeks (#1) to Streaker of the House (#10).
After casting their ballots, viewers will be entered to win cool prizes like Mr. Skin memberships and our grand prize, a 55" LCD flat screen TV.
"With so much divisiveness and partisanship in politics today, I wanted to bring people together with something we can all agree on—celebrity nudity," said Mr. Skin from his headquarters in Chicago. "Whether you're a Democrat or a Republican, I can guarantee that my Erection 2012 has something to fire up your base and your erectoral college."
Winners and results of Mr. Skin's Erection 2012 poll will be announced on November 15, 2012.
If you'd like more information on this topic and/or to book Mr. Skin for an interview, contact Pete McMurray at (312) 933-5963 or by email at Pete(at)mrskin(dot)com.
About Mr Skin and MrSkin.com
Mr Skin is the world's foremost authority on celebrity nudity. His website - MrSkin.com - is the #1 online resource for celebrity nudity news and reviews. MrSkin.com attracts more than 8 million users every month who come to experience the site's vast library of celebrity nudity material - more than 20,000 actress bios, 30,000 movie and TV show reviews, plus over 200,000 photos and videos. Mr Skin is one of the most sought-after guests in radio and The Mr Skin Minute can be heard every week on The Howard Stern Show. MrSkin.com played a pivotal role in the blockbuster Hollywood comedy Knocked Up (2007). The Mr Skin Skinpire has been profiled in The New York Times, The Wall Street Journal, USA Today, Playboy, Maxim, The Chicago Tribune, The Chicago Sun-Times, and The New York Post. Mr Skin has also appeared as a celebrity nudity expert on VH1, E!, BBC, and Comedy Central. Be sure to follow Mr. Skin on Facebook and Twitter.