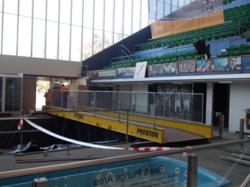 We provide custom solution to construction sites since some constructions areas are smaller or oddly shaped, it requires talent and innovation to make the temporary bridge a reality, but we thrive on challenges
Melbourne, Victoria (PRWEB) November 03, 2012
Preston Hire (http://www.prestonhire.com.au) is announcing publicly today of the successful but challenging installation of the temporary bridge over Westpac Centre's indoor pool so that construction equipment such as forklifts and mini-excavators could easily get to the other side of the pool.
Steven Preston, media contact, was asked recently about the project at Westpac Centre. "It was not a request that we typically receive, it was a very difficult install, but we managed to install a Portable Bridge over a 9m span pool. The reason the client wanted this was to have a way to easily get construction equipment to the other side of the pool and the only way to do this was to install the temporary bridge over the pool. The area was quite tight when trying to get a bridge into the swimming pool complex, which was quite a challenge, but we pulled it off. In the end, the client was quite pleased and cut down on construction costs."
Mr. Preston added, "Another challenge we had with this particular portable bridge was only one side of the pool was going to support the entire length of the bridge, which meant we had to pull out some of the best strategic planning coupled with a lot of creativity to ensure the bridge could fully support the construction equipment. Due to the design we chose, the equipment securely passes on the bridge."
Preston Hire temporary bridges have many benefits and been used in simple projects such as bridging small gaps to more complex solutions such as installing a bridge that connects two buildings, which makes it easier to access both of the buildings. "This is true, but in addition to just making it more efficient to get to another building or across a pool as was the case with Westpac Centre, it saves the company money since it reduces the time it takes to complete a construction job," Mr. Preston said. "We provide custom solution to construction sites since some constructions areas are smaller or oddly shaped, it requires talent and innovation to make the temporary bridge a reality, but we thrive on challenges," said Mr. Preston.
Asked about the future of the company, Mr. Preston said, "We continue to grow through word of mouth and through some of our innovative creations we have put together to help construction sites be more effective. In this business, word of mouth goes a long way and when you do quality work like we do, you have return customers and lots of referrals. We are thrilled with our growth and will continue to do whatever it takes to make sure our customers are fully satisfied no matter how easy or challenging the task at hand is."
About Preston Hire
Preston Hire is located in Australia and specialises in the construction industry by providing solutions such as Temporary Bridges, construction props, gantries, loading platforms, and formwork. The company works with many states in Australia and has been providing unique solutions to construction sites for more than a decade.