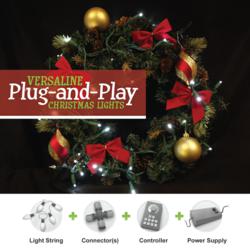 Beautiful, shimmering, capable of large installations and rugged—Versaline is a fantastic light system for serious Christmas decorators, including consumers and professional installers.
San Diego, CA (PRWEB) November 05, 2012
EnvironmentalLights.com, a leading source for high-quality, energy-efficient LED lighting, recently expanded its line of Versaline Plug-and-Play Chasing LED Christmas lights. This 3-channel system allows users to combine a variety of light strings, icicle strings, net lights, 3D crystal motifs, and meteor shower lights into a stunning display of flashing lights.
"We developed this is a super-deluxe LED design in response to the heavy demand for multi-channel chasing Christmas lights," said Greg Thorson, President of EnvironmentalLights.com. "A unique feature of this system is that the connectors have up to five wires, allowing the lines to carry two 24-volt power lines, plus three signal lines. This provides a convincing 3-channel chase, allowing the controllers to create effects other light strings cannot achieve."
One of the newest types of strings are the meteor shower strings, which have lights that strobe downward in a glittering pulse. By using one of the Versaline motherlines, users can easily string several together. Available in 4-foot, 3-food and 1.5-foot lengths and four color options. Mix and match together to create a sparkling curtain of light!
Rugged Commercial-Grade Components
Versaline is constructed of high-grade commercial components with rugged, weather-proof twist-lock connectors designed for indoor and outdoor use. Each fitting compresses an O-ring seal to keep the water out, and is guaranteed to stay connected during severe winter weather—unlike 2-prong plugs on most strings. These screw-on connectors make it very easy to connect large displays together.
The 3-channel Christmas light system runs on 24 volts—a non-lethal voltage which enables a safe, low voltage installation. The lights and infrastructure components can be used in conjunction with each other, and when paired with a controller the entire light display is capable of phasing, flashing, chasing and more.
Watch the 'How to Create a Versaline Light System' video: http://youtu.be/OCz6onPAGss
Versatile Controllers for Effects
EnvironmentalLights.com offers two versatile controllers, an 8-function and a 10-function with digital display. Either controller can be used with the full complement of LED Christmas lights we offer, and create impressive 3-channel chasing, flashing and twinkle effects.
The 10-function controller makes the most of the Versaline system's capabilities because it has advanced functions, a dimmer and a timer. The illuminated digital display allows you to easily adjust the speed and function of the lights even when dark outside. It can control up to 4,800 bulbs, whereas the 8-function controller can control 480 bulbs but with many of the same functions.
"The Versaline system operates on 24 volts DC, but allows you to connect many more lights than you probably thought possible," explained Alicia Cheng, Director of Product Development. "Beautiful, shimmering, capable of large installations and rugged—Versaline is a fantastic light system for serious Christmas decorators, including consumers and professional installers."
Multiple controllers can be used on one system to create varied effects with different lighting objects at the same time. Let your imagination run wild!
RoHS-Compliant & Lead Free
The Versaline Plug-and-Play light system is also RoHs-compliant, which means that lead was not used to make these products. Lead-free lights have been growing in popularity in past years with homeowners looking to be green and safe for the holidays.
RoHS stands for Restriction of Hazardous Substances. It is the standard that protects the environment and people from materials known to be harmful, including lead. EnvironmentalLights.com offers a variety of options for lead-free Christmas lights, responding to the demands of safety-conscious consumers.
EnvironmentalLights.com thoroughly tests its products to ensure quality, enhanced functionality and ease of installation. The company's in-house sales engineers provide live technical guidance and advice 7 days a week during the holiday season.
About EnvironmentalLights.com
EnvironmentalLights.com is a leading resource for sustainable, energy-efficient LED lighting products to meet the needs of business, commercial and residential clients. Their in-house sales engineers provide expert advice in the selection and design of lighting systems, as well as technical support throughout the installation process.
EnvironmentalLights.com offers a broad spectrum of LED light bulbs, strip and rope light, under cabinet light systems, Christmas lights, dimmers, controls and necessary hardware for any lighting project. For more information about Environmental Lights, visit http://www.EnvironmentalLights.com.