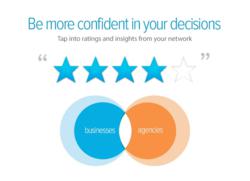 Agency Spotter provides a structured approach to the search, comparison, and selection of creative agencies
Atlanta, GA (PRWEB) November 01, 2012
Agency Spotter, Inc. launches the first digital marketplace built to solve the painful and expensive process of searching for creative agencies today. The site, agencyspotter.com, offers a time-saving and easy-to-use interface that allows businesses to check-off their specific project preferences and needs and quickly get to a short-list of talented agencies, taking agency search from months to minutes. Agency Spotter also provides valuable tools for agencies to amplify their presence and help with lead generation. While currently in beta and with an initial focus on the Atlanta market, the site is already expanding to cover North America.
Co-Founder and CEO, Brian Regienczuk, stresses the platform's significance as "reinventing agency search and giving businesses more confidence in their decisions by building a structured process for the search, discovery, and comparison of agencies". This will have a large impact on the marketing services industry where $760 Billion was exchanged between businesses and agencies in 2011. Agency Spotter builds on word-of-mouth referrals on which businesses heavily rely when vetting an agency, by bringing an intuitive and efficient solution driven by technology fit for the fast-paced and socially intertwined digital world.
The product was designed side-by-side with both businesses and agencies to ensure it is built to provide value to both parties. Based on these insights, Agency Spotter brings two firsts for the industry: 1) the inclusion of ratings and reviews and 2) the use of social media tools to activate and surface a user's own professional network connections to an agency. Businesses can sign-up for free and start searching right-away. Agencies have a range of options (paid and free) offering valuable features and increasing their opportunities for exposure across the site.
The site gives users the ability to: scan relevant results, easily compare agencies, build agency watch-lists, and connect directly with the new business contact at an agency. For agencies, in addition to increasing the opportunity to be found and considered for projects, Agency Spotter also helps monitor on-site performance metrics, gain insight into the types of people and businesses interacting with their portfolio, and participate in the conversation about their services.
About Agency Spotter
Agency Spotter is revolutionizing the B2B marketplace around agency search and selection, making it easy for businesses and creative agencies (Advertising, Interactive, Branding, PR, Design, Research, and more) to find and work with each other. Co-Founders Brian Regienczuk and Joseph Raccuglia have set out to solve a business problem that consistently surfaced while working at some of the world's top brands. Agency Spotter was founded in February 2012 with offices in both Atlanta and Boston and launched a private version of the product at TechCrunch Disrupt in NYC this past spring. For more information, visit agencyspotter.com.