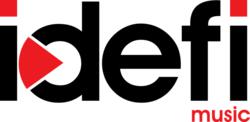 What makes idefi great and appealing to artists... is that we literally get to be in control of our own destiny.
Tulsa, OK (PRWEB) November 01, 2012
Pillar, one of the most successful Christian Rock bands, has reunited thanks to idefimusic.com, a new online record label that officially launched today, Nov 1. Serving a growing market of artists who want to avoid the expense of traditional record labels, idefimusic.com moved out of beta phase and officially opened to the public today with 37 new tools and features.
Pillar front man Rob Beckley says he's thrilled the band is back together using a groundbreaking business model, idefi, to distribute their music. "What makes idefi great and appealing to artists ... is that we literally get to be in control of our own destiny," said Beckley. "That is the beauty of idefi."
idefi CEO Brady Deaton said Nov. 1 represents an exciting day for musicians who deserve a shot at success while avoiding debt or financial risk. idefi allows artists to make small steps toward success and not risk any upfront expenses.
"With idefi, artists earn their way using a reward system rather than hope and pray that someone discovers them," Deaton said. "I am so proud to think that the idefi model gave Pillar another option, one that included staying together and continuing to make great music while getting paid royalties on their music sales from day one!"
A web-based "all access" record label, idefi "defies" traditional label practices by using a reward point system. Stephen Cassar, idefi Chief Technical Officer and Founder/CEO of TICKETsage Inc., said idefi's business model creates a record label for the new millennium. idefi's Artist Development Representative, Butch Stone discovered and launched the career of Cheap Trick, managed Black Oak Arkansas and Krokus among numerous others while earning 34 Gold and Platinum album awards along the way.
Here's how idefi works: Musicians create a free profile to sell their music at idefimusic.com. Next, they can choose whether or not to share profits with idefi and what percentage. After a percentage is chosen, idefi rewards them with points per purchase. These points can be used toward services that idefi provides. idefi's mission is to give artists control while keeping both the artist and label from acquiring large amounts of debt.
Deaton experienced a failure of his own in 2000 after deciding to turn his recording studio into a record label. He spent thousands of dollars and hours on a band that called it quits in short order. "I was stuck with thousands of CDs by a band that no longer existed," he said. It was this financial disaster that inspired the concept for idefi. Deaton and idefi are currently finalists for several entrepreneurial and startup awards, including the TCC StartUp Cup Powered by Lobeck Taylor Family Foundation that culminates in November.