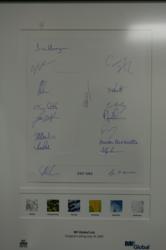 "The online format for the sale will allow global access to anyone that would like to bid and get a final piece of MF Global. MF Global had an international reach in their business dealings as well as their very public unfortunate demise,"
Chicago, Illinois (PRWEB) November 02, 2012
Bankruptcy auction for MF Global, Inc Fine Art & Memorabilia will conclude on November 14. Assets include a vintage Chicago Board of Trade clacker board, original LeRoy Neiman artwork, signed and numbered lithographs by Thomas Seawell, large variety of other signed lithographs, photos and posters. Also included in the auction are the remaining MF Global, Inc branded materials.
MF Global, Inc, declared bankruptcy on October 31, 2011. The online auction sale of artwork and branded materials is now live on the internet and will end on Thursday November 14th. The auction is being conducted by HYPERAMS, LLC. "The online format for the sale will allow global access to anyone that would like to bid and get a final piece of MF Global. MF Global had an international reach in their business dealings as well as their very public unfortunate demise," says Tom Pabst, President of HYPERAMS, LLC. Anyone can register and bid on MF Global, Inc assets by visiting hyperams.com.
Items up for auction include fine artwork, MF Global logo promotional items, and miscellaneous items that were located in the MF Global, Inc Chicago Offices. The paintings include original artwork and tapestry by LeRoy Nieman, Thomas Seawell, Marget Babbitt, Gale Packer, Evily V. Johnson and more.
About HYPERAMS, LLC
The HYPERAMS Asset Disposition Team focuses on investing in the excess assets of distressed and healthy companies operating in the middle market and below. HYPERAMS' Appraisal Team provides valuations of machinery and equipment in most industry verticals, and of consumer product inventory.
For details on the sale, full list of assets, photos and inspection times, call Kathleen Parker at (262) 903-0602.