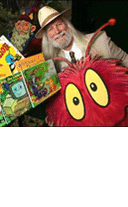 "I love giving stuff away!" said Dr. Hope.
Las Vegas, NV (PRWEB) November 01, 2012
Alpine Publishing announces today that their star author, Dr. Hope, is having the Great Laughing Day Joke Contest where he will be giving away autographed First Edition copies of his critically acclaimed Laughing Day children's storybook or the Laughing Day CD.
"I love giving stuff away. And best of all the winners get to choose either the book or the CD. My award-winning children's storybooks are value based and teach children priceless lessons that will help them throughout their lives. Just go to my Laughing Day Library website and go to the joke contest to submit your joke. http://laughingday.com/jokes.cfm"
Here's a sample of some of the jokes that have been posted already:
"The fattest knight at King Arthur's round table was Sir Cumference. He acquired his size from too much pi."
"The midget fortune-teller who escaped from prison was a small medium at large."
"The soldier who survived mustard gas and pepper spray is now a seasoned veteran. "
All you have to do is post a clean joke, appropriate for kids, in the Laughing Day Joke Contest and you could win an autographed First Edition children's book.
Dr. Hope's award-winning children's storybooks teach kids the power of believing in themselves, the joy in helping others, the love of laughter, to always try their best and the benefits of living in the present moment. You can read several of them online at: http://www.LaughingDay.com
"Come to my Laughing Day Website for your chance to win a free autographed First Edition copy of my award winning Laughing Day storybook. Good Luck," said Dr. Hope.
About Tim "Dr. Hope" Anders: Dr. Hope is an award-winning children's book author who also writes books for grownups. For more information about him go to http://www.DrHope.com.