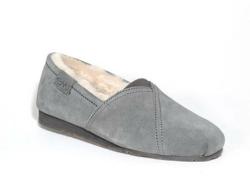 We have a huge selection of Emu slippers this year a great gift for Christmas.
Banbridge, County Down (PRWEB UK) 2 November 2012
The Donaghys Shoes is one of the leading shoe shops in UK. Established in 1960 by Elen and Peter Donaghy in the town of Banbridge Co Down, Donaghys has grown over the years and is now one of the largest shoe stores in all of UK offering more than 100 global brands to its customers.
Donaghys is a winner when it comes to selection of a shoe store in UK among gents, ladies and kids alike. The store provides a great stock and range of all kinds of shoes for all types of customers and most importantly does not compromise on quality for price when it comes to footwear being offered to customers. Anyone can choose one within their budget from the numerous brands available blindly without giving a second thought on the quality or value for money.
With the recent supplier agreement with Rieker shoes it has successfully added another feather to its crown. Since its inception in 1874 Rieker has went on to become one of the largest shoe maker in Europe. The new agreement surely is an exciting addition to the already rich variety of products on offer from the store. Rieker shoes are of high quality and the agreement puts Donaghys one step closer to becoming an even greater brand as a shoe supplier. Donaghys is already planning on cashing in on the opportunity by holding a massive offering of Rieker products for spring 2013. Those within UK can also avail of their special offer of free delivery on online purchase.
If not all that crazy about getting a Rieker shoe, there are loads of other brands that can check out from the store. The Ladies department in itself stores a large variety of more than 600 different brands to choose from which include Gabor, London, Fly and of course Rieker, the new attraction. For the men there are classy English footwear from popular brands like the Cheaney shoes, Barker shoes, Eeco, Anatomic gel, and many more. The kids today are no more ignorant about the recent fashion trends and are quite fashion conscious, sometimes even more than their parents. The Donaghys is surely a life saver for all those parents who are puzzled about where to go to buy footwear for their kids that will actually make their kids also happy. The store has its own unique collection of kids footwear from great brands like Kelly, Clarks, Startrite, Lelli, Converse, Geox and loads of other brands to choose from.
As the festive season is approaching it is time to buy gifts for your dear and near ones. The Donaghys has on offer a spectacular and huge collection of EMU slippers this year as a great gift for Christmas. Originally founded in 1948, the EMU has been using the best quality sheepskin and wood products for more than 15 years now. The store houses a huge collection of EMU styles, check out from the store itself. The class and style is surely going to win your heart. For the UK customers there is an even better offer, shop online and get the product delivered to anyone doorstep, completely free of cost. If some is not looking for slippers, no need to get disheartened, there are EMU slippers on offer too to choose from.
For those who love class, the Barker shoes have been the name synonymous with fine English footwear for more than a century. The Donaghys also hold huge stocks of the line Barker shoes and boots. The new creative collection is surely going to attract those with a taste for exclusive fine products and will definitely set them apart from the rest. The wide variety of collection will make sure that one's get the product of his choice. For the online buyers there is another offer, not only get a free delivery within UK but also get a free Shoetree for all Barker shoes and boots that someone buy online.
The Donaghys is also presently offering its customers some great Halloween treat. The trained fitters make sure that you get the perfect fit. So whatever is your demand or requirement, the great collection at Donaghys will make sure that never return unsatisfied.
For More Information:
Contact:
Manager: Peter McVeigh
Address: 25-31 Newry street, Banbridge, County Down, BT32 3EA
Business email id : sales (at) donaghys (dot) co.uk
Phone number: 02840662750
Website: http://www.donaghys.co.uk