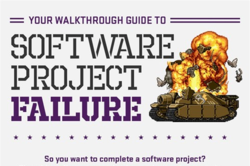 The failure of an IT project is completely avoidable.
(PRWEB UK) 2 November 2012
IT professionals have been given this fool proof guide to software success after research indicated project failure is on the up.
Software solution specialists, MSM Software, in partnership with Computing Magazine surveyed 200 senior IT professionals in a bid to see how the industry could be improved.
What they found was a recurrent theme of unfinished or unsatisfactory projects as well as blown budgets, with a whopping two thirds of IT professionals admitting to involvement in a project which has failed to live up to expectations.
In addition, insufficient time, inadequate budgets and too many stakeholders were cited as reasons for project failure.
Although much of the research points to the requirement-gathering stage as the biggest difficulty in project success, the consequences of software project failure can have severe financial consequences for a company.
However, it's not all doom and gloom. Approximately 60% of IT professionals managed to identify when a project is falling short and implemented changes to recover it, of which 46% did so through applying tougher deadlines and 43% by increasing project management.
Thomas Coles, managing director of MSM Software said:
"Software projects are resource intensive and complex, and have a reputation for being both expensive and risky. This reputation is all too often validated by an abundance of projects failing. Yet, the failure of an IT project is more often than not completely avoidable.
"That's why we've created this quick and easy guide in a more digestible format, so professionals can ensure their software projects don't fail in the future."
You can view the full MSM Software infographic here.