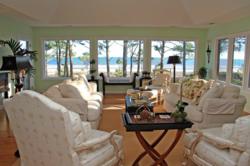 During this fall, there are plenty of events to enjoy, if you can take a break from the stunning natural beauty.
Hilton Head Island, SC (PRWEB) November 01, 2012
Destination Vacation, a popular provider of Hilton Head Island vacation rental properties, have recently announced fall rates and tons of benefits for the guests visiting this stunning island destination in the next few months. This time of the year is considered by many to be the best time to visit this amazingly beautiful island. With some of the most stunning beaches, wildlife sites, and golf courses, Hilton Head is now one of the most preferred vacation destinations for tourists coming from different parts of the country. This period of the year generally has the best weather, and relatively less crowd comparing to the summer.
Destination Vacation is extremely popular amongst the visitors to this part of the world because they provide the highest level of personalized care to ensure a wonderful vacation experience. The team consists of people who are passionate and knowledgeable about this beautiful island. Depending on the budget, a wide range of rental properties are available for the customers of Destination Vacation. Like all other years, the company is ready to offer the best vacation lodging experience in the island to the visitors during the upcoming season.
Hilton Head Island is traditionally acclaimed for its tidal creeks, golf courses, and beaches. Over the years, this island is a favorite destination for water sport lovers. Hilton Head Island's beautiful surroundings make it the perfect spot for activities like fishing, kayaking, water skiing, parasailing, biking, etc. Sea Pines, Forest Beach, and Palmetto Dunes are some of the most visited tourist attractions in the island. A number of events are also organized during this part of the year in the Hilton Head Island. Talking about the biggest events of the year, the CEO of Destination Vacation Jason Presley says, "There is enough to do here throughout the year. During this fall, there are plenty of events to enjoy, if you can take a break from the stunning natural beauty. Liberty Oak Bluegrass Concert, Hilton Head Symphony Orchestra, Hilton Head Motoring Festival, and The Oyster Festival are some of the top events this fall".
About the Company: Destination Vacation is a popular Hilton Head Island vacation rental properties provider. The company is offering a memorable vacation experience in this beautiful island in the upcoming spring and fall season with lower rates and amazing service.
Contact:
Website: http://www.destinationvacationhhi.com
Email: info(at)destinationvacationhhi(dot)com
Local - (843)785-7774
Toll Free - 877-TRIP-2HH (877-874-7244)
Fax - (843)785-7754