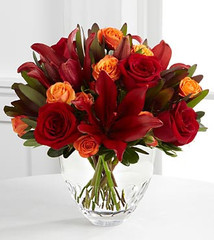 Atlanta, GA (PRWEB) November 02, 2012
Peachtree Petals, a premier Atlanta Florist and honored Master Florist, announces $10 off on all bouquets and gift orders that their customers pick up from the Peachtree Petals floral shop. The discount offer has been created in order to attract new customers and to continually promote its floral services. The floral company's goal is to provide "design quality floral arrangements" at a competitive price and expand its' services nationwide.
The $10 discount is marketed visibly on the Peachtree Petals home page. Customers are not required to have a promotion code. They will simply checkout and select the pick-up service shipping method. The $10 off will credited to the customer's debit or credit card. They can also select to make their payment at the store upon pick up as well. The standard time for floral bouquets to be designed is a 5-hour window, therefore the customer will be able to pick up their bouquet on the same day it was ordered. An e-mail notification is sent to the customer once the bouquet is ready for pick up.
Peachtree Petals' $10 discount expresses their commitment to its customers to provide the best pricing available in the Atlanta area. Without having to deliver the bouquet, Peachtree Petals is making the effort to give those cost savings back to their clients. The florist is branding itself as a floral company customers can trust. You can also find different discounts available on Facebook and Twitter. Not only does this Atlanta florist sell premium bouquets and wedding bouquets, but also assorted gifts such as gift baskets, chocolates, balloons, candles, and more.
Peachtree Petals is one of Atlanta's newest florist, providing stunning floral arrangements to a wide variety of clients throughout the United States. The company is known for its simplicity and free standard delivery within the Atlanta and Metro Atlanta area. Peachtree Petals specializes in wedding events and wedding bouquets as well. With their very own wedding consultant, the quality florist is able to meet the highest level of wedding floral needs. Peachtree Petals has floral designers with over 50 years of experience, resulting in the finest of floral arrangements every time.