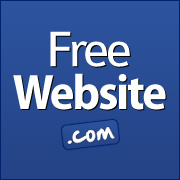 New York, NY (PRWEB) November 06, 2012
Today, FreeWebsite.com released an article detailing the importance of small businesses creating a powerful online presence in order to increase business and potentially protect themselves from harmful online activity. Small businesses can lead the way with online support by creating a user-friendly website and having a social media presence.
Social networks, like Facebook and Twitter can be powerful resources for small businesses. They can also pose potential hazards. According to a recent article on Mashable, Facebook emails were sold to a Bulgarian man for $5 U.S. dollars. These type of news stories often cause alarm for small businesses, but FreeWebsite.com shows how a good website can protect a company, while still helping business.
"Even with the potential risks associated with privacy on social media sites, it appears that social media networks, Facebook included, are only gaining in popularity," says Jeff Spicher, FreeWebsite.com CEO. "Many businesses are finding real value in connecting with customers on social media platforms. So not only are people re-connecting with friends and family online, but consumers are also looking for an experience from their favorite brands and stores."
FreeWebsite.com combines the expertise of esthetically appealing design and SEO-friendly content to make a website successful and safe. Many of the small businesses that utilize social networks and worry about Facebook emails breaches are turning to FreeWebsite.com to help have intellectual rights and properties protected.
To view the article, visit: http://www.freewebsite.com/facebook-emails/
About FreeWebsite.com: FreeWebsite.com breaks down barriers to website ownership by providing attractive, easy to maintain websites, complete with content, at a low price. To learn more, visit FreeWebsite.com.