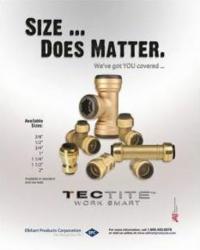 Sterling Heights, MI (PRWEB) November 02, 2012
The Macomb Group, a leading distributor of Pipes, Valves and Fittings has added to its product line by not offering the TECTITE push fittings. The removable TECTITE push fittings range from ¼" to 2" in size and are available in both standard and low lead designs.
The addition of the new fittings along with their current catalog of check valves, slip tees, fitting adapters, angle and straight stops, water heater hoses with integral ball valves, and water heater installation kits rounds out their product offering means that the Macomb Group provides the broadest size range of push fittings in the industry.
The new TECTITE push fittings line provides a lot of advantages. They are faster and cost effective jointing solutions. They simply push together in seconds to create a perfect joint without needing any welding or soldering.
They are also reusable which means that you can save time and money when adopting the fittings to a new application. TECTITE fittings are also flexible in that they allow for the jointing of copper tubing and PEX and CPVC pipe.
The TECTITE fittings come with a 50-year warranty against any manufacturer defects. To learn more about TECTITE fittings, visit the Macomb Group's product page for fittings.
The Macomb group is a national leader as a wholesale distributor of pipe, valves and fittings (PVF). Their multiple locations in Michigan, Ohio and Tennessee help them deliver to a wide market and they are presently ranked in the Top 10 nationally as a distributor of PVF.
Market Pipeline is an industrial internet marketing company based out of Portage, MI.