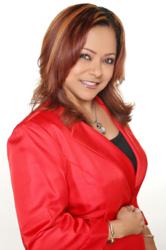 You can make excuses or you can make a difference
Las Vegas, Nevada (PRWEB) November 03, 2012
Top producing Home Business expert Toni Morgan is known throughout the MLM Industry as one half of The Dynamic Duo of Dwayne & Toni Morgan, founders of Dreamgivers Worldwide a Health & Wellness network marketing team of 20,000+ distributors, over 100 of which were personally enrolled by them.
Toni Morgan joins Yoli and brings with her over 15 years of Network Marketing experience. She is a certified life/success coach. Now adding weight loss coaching to her repertoire. She has trained under World renowned bestselling author/speaker, coach and teacher in The Secret, Ms. Lisa Nichols and received her certification from Life Purpose Institute. Not only is Toni a great MLM leader, she has personally sponsored and developed several 6 figure earners in the Industry.
One of the leading reasons Mrs. Morgan decided to join Yoli was the Founders, company leaders and the amazing systems in place for success. Not only have the founders been successful distributors in Network Marketing themselves, but also in traditional business. This is a key factor in the future success of Yoli.
After using The Yoli better body system herself, Toni was convinced the system could assist the masses who struggle with weight loss, but also their Alkalete product which promotes healthy PH in your body and is the science behind the program.
Toni Morgan has a proven system for team building whether choosing to build online, or off line. Each team member will get exclusive access to Toni's team building system, conference calls and personal development mentoring. It will not matter if a seasoned marketer or a first timer, everyone will learn how to generate quality leads of people who are looking for the Yoli Better Body System.
When joining Toni Morgan's team, all that's needed is a burning desire to be successful, open to coaching, and everyone will succeed with Yoli and create the lifestyle they have always dreamed of.
For FREE positioning with Toni Morgan's launch team please visit http://www.yolipays.com
The Morgan Team is a premier marketing team. For more direct information contact us TODAY!!!