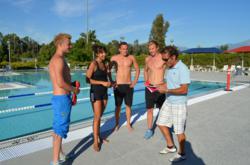 Loma Linda, Calif. (PRWEB) November 01, 2012
With four years still remaining before the next Summer Olympics, international swimmers are back at Loma Linda University Drayson Aquatics Center with hopes of getting to Rio de Janeiro in 2016.
Four swimmers from Uzbekistan, all members of Redlands Swim Team, are training at Loma Linda University Drayson Aquatics Center. The swimmers include Yulduz Kuchkarova, 18, who represented her country at the recent 2012 London Olympics.
The Uzbek swimmers join their American counterparts who are members of Redlands Swim Team, with hopes of doing well in swim meets between now and 2016. Other swimmers from other countries are expected to joint the team in coming months.
"It's never too early to start training, because if you have not started by now, it might be too late," said Redlands Swim Team Coach Martin Gregoire. "Four years can go by really quick."
He praised the facilities at LLU Drayson Aquatics Center, which he said are critical to the athletes' training.
"Because of the Drayson Aquatics Center, I see only spectacular potential for the swimmers," Gregoire said.
"It was great to see the hard work and dedication Yulduz Kuchkarova put in to make it to the 2012 Olympics," Drayson Center Aquatics Manager Michael Rister said. "Now to see her back with more excitement and more friends I know she will work even harder to swim once again in the 2016 Olympics. The Drayson Center is very pleased with all of their performances and is very excited to have them swimming with us."
Photo caption: Redlands Swim Team Coach Martin Gregoire gave pointers earlier this month to Uzbekistan swimmers (from left) Dmitriy Shvetsov, 20; Yulduz Kuchkarova, 18; Daniil Bukin, 18; and Daniil Tulupov, 24, prior to training at Loma Linda University Drayson Aquatics Center.
###
About Loma Linda University (http://www.llu.edu)
Loma Linda University is a Seventh-day Adventist educational health-sciences institution with more than 4,300 students located in the Inland Empire of Southern California. Eight schools make up the University organization: Allied Health Professions, Behavioral Health, Dentistry, Medicine, Nursing, Pharmacy, Public Health, and Religion. More than 55 programs ranging from certificates of completion and associate in science degrees to doctor of philosophy and professional doctoral degrees are offered. Students from more than 80 countries around the world and virtually every state in the nation are represented in Loma Linda University's student body.