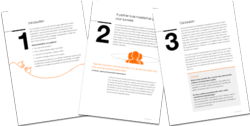 London, United Kingdom (PRWEB UK) 2 November 2012
Box UK continues their series of reports into digital and business trends with "Build Trust & Drive Value: The Partnership Approach". This latest white paper explores the relationship between organisations and their service providers, focusing on ways to foster long-term partnerships that encourage strategic contribution and collaboration.
Combining industry research with real-world experience, the report looks at the number of advantages that partnerships can offer businesses, as well as tips on identifying appropriate providers to partner with and advice on optimising the client-agency relationship.
To ensure you receive Box UK's white papers as soon as they become available, sign up to the newsletter for regular deliveries of news, opinion and industry insight. You can also download Box UK's previously released white papers online:
Six Things You Need to Know About Your Users
Five Signs Your Web Project Needs Agile
About Box UK
Box UK is a team of thought leaders, consultants and application developers engaged in the rapid and precise design and delivery of high-performance software products and services for progressive enterprises worldwide.
Established in 1998, Box UK's client list includes BBC, LAN Airlines, Investec Asset Management, the National Gallery, Chartered Institute for IT, EDF Energy and Severn Trent Plc.