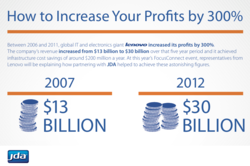 (PRWEB UK) 2 November 2012
JDA have just released a case study detailing how they helped boosted IT and electronics behemoth Lenovo profits by 300% in just five years
Lenovo were left with legacy infrastructure and basic capabilities for e-commerce when they acquired IBM's PC division back in 2005. This made scaling out operations across the world a real challenge.
Yet within just five years they had increased revenues from $13 billion to $30 billion, with profits jumping by 300%. Not only that, but in the same period they decreased their website downtime by 10.5% - or 10.5 hours in every 100 hours - meaning happier customers and less lost sales.
By 2012, it was the largest provider of PCs in the world. It had only been third in 2006, with 7% market share.
To find out how they did it, take a look at this short PDF from JDA.
This brief digital document demonstrates solutions to make business operations easily scalable globally, quickly improve customer experience and sentiment, deploy faster and see a quicker time to value. Download it now and find out how businesses can improve the way they work right across the world.
For information on all this and more, visit JDA's Focus Connect event, running from 5-7 November 2012 at Hotel Arts Barcelona, Spain.
Ends
Notes to editors
JDA solutions helped Lenovo increase profits by 300% in five years.
Revenue grew by $17 billion in the same period.
Less sales and customer satisfaction lost thanks to 10.5% less website downtime.
Stats and analysis available in a short PDF from JDA on Slideshare.