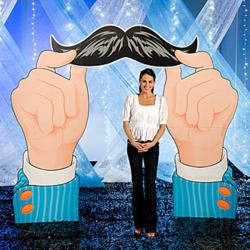 South Whitley, Indiana (PRWEB) November 01, 2012
Today, you may observe men starting to grow facial hair. Most will be mustaches. November marks Movember, an initiative to raise awareness of men's health issues.
In 2011, over 854,000 Mo Bros and Mo Sistas around the world raised $126.3 million in Movember by getting their mustaches sponsored. Funds were donated to organizations like The American Cancer Society. Movember is a movement in more than a dozen countries and has roughly 1.9 million members worldwide. At the end of November, Mo-Parties pop up across the country when these people finally get to shave their mustaches off.
Shindigz, a leading party favors retailer, supports Movember campaigns to raise awareness for the early detection and treatment of prostate and testicular cancers. Those participating can personalize their Movember decorations and favors for fundraisers and mustache shaving parties with a line of Movember party products. These include mustache themed standees, columns, lollipops, yard signs, banners, candy bars, and large decorations.
"Movember parties or 'Mo Parties' are happening all through November to raise money for prostate and testicular cancer initiatives. We've created a line of party supplies that will help anyone show off their mustaches for such a great cause." explains Jacquie Downey, Director of Sales and Marketing at Shindigz.com, a leading, national party supplies company.
Each year, The American Cancer Society publishes its most recent findings related to cancer statistics. The American Cancer Society has found that 1 in 6 men will develop prostate cancer this year. Prostate cancer is predicted to affect the lives of 241,740 men who will be diagnosed this year in the United States alone. These statistics make prostate cancer the second most common cancer in U.S. men, just behind skin cancer.
The risks of these cancers is said to result in deaths as high as 1 in 36 males dying from prostate cancer, serving as the second highest death toll cancer rate to lung cancer, according to The American Cancer Society. It is reported that 360 men will die this year as a result of testicular cancer and another 28,170 from prostate cancer. The Center for Disease Control advocates following the U.S. Preventative Services Task Forces' recommended policy regarding prostate health.
About Shindigz
Since 1926, Shindigz, located in South Whitley, Indiana, has provided more than 34,000 party products for over 22 million special party events. It ships products across the United States, and around the world to 59 countries. Shindigz' online party supply store provides customers with complete party solutions.