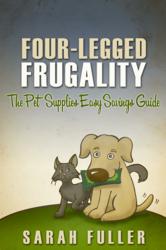 By learning to use some simple money savings techniques, you can significantly cut the cost of your pet-related purchases.
West Monroe, LA (PRWEB) November 02, 2012
The pet products industry is big business. Yearly spending on pet supplies exceeds $50 billion dollars according to the American Pet Products Association, meaning a hefty amount of cash spent annually by the average pet parent.
Knowledgeable pet owners can save significant money on pet supplies says Sarah Fuller, author of "Four-Legged Frugality: The Pet Supplies Easy Savings Guide"."By learning to use some simple money saving techniques, you can significantly cut the cost of your pet-related purchases."
Fuller offers the following tips for reducing pet supply costs:
1. Comparison shop for the best prices on the pet products that you use. Check out prices at both bricks and mortar outlets and online only businesses. Find out about new customer discounts, as well as, loyalty programs.
2. Check the Web weekly for printable and store card loadable coupons. Sites such as Coupons.com®, RedPlum® and SmartSource® are good, reputable sources for coupons.
3. Explore well-known online auction sites for deals on durable pet supplies such as beds, brushes, collars, carriers and toys.
4. Ask your veterinarian about discounts that he or she may have available to pass along to you on medicines and other pet care products. Also, work with your vet to make sure that your pet receives the proper preventive care that he or she needs.
5. Check out pet product manufacturer websites, Facebook pages and Twitter feeds for special discounts and promotions. Many times, you will find offers directly through the company that cannot be found elsewhere.
"A little planning and research can mean big savings on pet supplies," says Fuller.
For more tips on saving on pet products, check out Fuller's e-book "Four-Legged Frugality" at Amazon.com. Fuller is also the author of "Easy Savings Tips for Busy People".