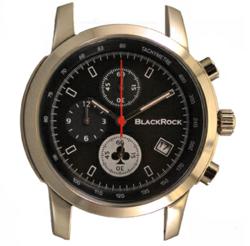 Our Infinite Guarantee ensures that our watches will stand the test of time
Burlington, Vermont (PRWEB) November 02, 2012
BlackRock Watchmakers has announced the release of their introductory watch model, Crush Groove, featuring the company's signature Infinite Guarantee. Designed and assembled in Burlington, Vermont U.S.A, the men's chronograph watch is the first production watch warrantied for the life of the buyer and beyond. The official launch of the watch is scheduled to take place at the Casino de Montreal on November 3rd 2012.
The Crush Groove watch features a solid case cut from surgical-grade stainless steel and a precise chronograph movement displaying the time, date, elapsed seconds, minutes and hours, accurate to +/-0.1 sec/day. The tachymetre feature allows the user to measure the relative speed of a moving object. The watches are water proof to five (5) atmospheres and are available with a stainless steel band or croc-embossed leather strap. Each watch comes complete with a cigar-style wooden collector's box.
Every BlackRock watch features the company's Infinite Guarantee, an assurance of quality unmatched by any watchmaker worldwide. BlackRock Watchmakers warranties against any defect or product malfunction indefinitely for the life of the buyer and beyond. "We've designed a distinctive men's watch that's equally at home in a suit or on the street." said Matt Mahoney, President of BlackRock Watchmakers. "Our Infinite Guarantee ensures that our watches will stand the test of time".
About BlackRock Watchmakers
BlackRock Watchmakers is an American craft watchmaking company producing small-batch chronograph watches designed and assembled in Burlington, Vermont U.S.A. The BlackRock team, which includes designers, CNC engineers and various watchmaking aficionados have been designing wristwatches for 5 years for major Swiss and domestic brands. Crush Groove is their premiere offering under their proprietary label. The public is welcome to attend the company's product launch event at the Casino de Montreal or visit the company's website at http://www.blackrockwatch.com.