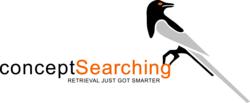 Rod Hughes, Director of Global Alliances at Kodak, and Don Miller, Vice President of Sales at Concept Searching, will explore 'Steps to Take to Avoid Information Governance Nightmares'.
McLean, VA, US and Stevenage, UK (PRWEB UK) 2 November 2012
Concept Searching, a global leader in semantic metadata generation, auto-classification, and taxonomy management software, and developer of the Smart Content Framework™, will be joining forces with Kodak's Document Imaging business team, to deliver the first in a series of joint webinars, to take place on Thursday November 8th, 2012 from 2pm-3pm EST.
Further to the recent announcement that Concept Searching has entered into a partnership agreement with Kodak's Document Imaging business, the world's foremost imaging innovator, this webinar will share with attendees Concept Searching's expertise in metadata generation, search, classification and taxonomy management, and Kodak's experience in precision, power and performance delivered by its capture platform of software, hardware and services.
Rod Hughes, Director of Global Alliances at Kodak, and Don Miller, Vice President of Sales at Concept Searching, will explore 'Steps to Take to Avoid Information Governance Nightmares'.
Hughes and Miller have drawn from their extensive solution and industry expertise to develop a five step framework that addresses the challenges of information governance, and establishes a straightforward plan to help enterprises manage both paper and electronic content in an intelligent, proactive and compliant manner, reducing cost and mitigating risk while improving productivity.
Real issues for CIOs are sensitive information breaches, losing patient records or not complying with government privacy laws, that can often result in litigation and substantial fines to their companies. Of major concern to these executives is the ever increasing explosion of unmanaged paper and digital content across the organization.
The webinar has been designed to address these issues and concerns by covering the following topics:

An introduction to information governance, including risks and opportunities with governance and compliance
How solving governance issues automatically solves the search and retrieval issues present within any enterprise
Best practices in deploying a solution set to intelligently manage both paper and electronic content for compliance
An introduction to an end to end solution combining Kodak products, Concept Searching technologies, and SharePoint to offer a governance solution
Real life examples of how the tools are being used within organizations today
Space is limited. Register now at: https://www3.gotomeeting.com/register/249336406
Those who are unable to attend can also register, and they will be sent a link to the webinar recording.
Follow Concept Searching: http://www.twitter.com/conceptsearch
About Concept Searching
Founded in 2002, Concept Searching provides software products that deliver conceptual metadata generation, auto-classification, and powerful taxonomy management from the desktop to the enterprise. Concept Searching, developer of the Smart Content Framework™, provides organizations with a method to mitigate risk, automate processes, manage information, protect privacy, and address compliance issues. This infrastructure framework utilizes a set of technologies that encompasses the entire portfolio of unstructured information assets, resulting in increased organizational performance and agility.
Concept Searching is the only platform independent statistical metadata generation and classification software company in the world that uses concept extraction and compound term processing to significantly improve access to unstructured information. The Concept Searching Microsoft suite of technologies runs natively in SharePoint 2007, SharePoint 2010, SharePoint 2013, FAST, Windows Server 2008 R2 FCI, Office 365, and in Microsoft Office applications.
The building blocks of Concept Searching's Smart Content Framework™ are being used by organizations from a diverse number of industries including the US Army, the US Air Force, the UK MOD, Baker Hughes, DAI, Deloitte, Logica, NASA Safety Center, OppenheimerFunds, Point B, Perkins+Will, Parsons Brinckerhoff, Burns & McDonnell, MarketResearch.com, the US Department of Health & Human Services, Transport for London, the London Fire Brigade, the National Transportation Safety Board, and Xerox.
Headquartered in the US with offices in the UK, South Africa and Canada, Concept Searching solves the problem of finding, organizing, and managing information capital far beyond search and retrieval. The technologies are being used to improve search outcomes, enable effective records management, identify and secure sensitive information, improve governance and compliance, add structure to Enterprise 2.0, facilitate eDiscovery, and drive intelligent migration. For more information about Concept Searching's solutions and technologies please visit http://www.conceptsearching.com.
About Kodak
As the world's foremost imaging innovator, Kodak helps consumers, businesses, and creative professionals unleash the power of images, information, and printing to enrich their lives.
Kodak enables customers to capture and use valuable information from electronic and paper documents. Its document imaging solutions include award-winning scanners and capture software, an expanding range of professional services and industry-leading service and support. From small offices to global operations, Kodak has the right solution to feed business the information it needs. For more information, visit http://www.kodak.com/go/docimaging, Follow on Twitter at twitter.com/kodakdi and visit the blog at growyourbiz.kodak.com.
All product and company names herein may be trademarks of their respective owners.