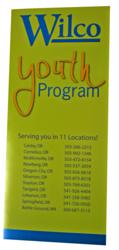 the reward cards are good in exchange for merchandise in any of Wilco's retail farm stores
Mount Angel, OR (PRWEB) November 03, 2012
Today Wilco distributed over $55,000 to local Youth Account Participants as part of their yearly youth rewards program. Wilco's Youth Program is designed to support youth in FFA and 4H projects dealing with livestock, equine, horticulture and other similar activities. This year Wilco's Youth Program had record participation and record rewards.
Each participating Youth Account member will receive reward cards of between $5 and $100 each depending upon their participation level in the period October 1, 2011 through September 30, 2012. The reward cards are good in exchange for merchandise in any of Wilco's 13 retail farm stores in Oregon and Washington.
Wilco has evolved into the Northwest's largest Ag Supply cooperative providing Agronomy, Petroleum, and Retail Farm Store products and services to both members and non-members. As the Northwest's #1 supply cooperative, Wilco serves the unique needs of over 500,000 customers with a member base of over 3,000 strong. This tradition of success and stability is largely due to unwavering member loyalty and support, and a clear vision of the values and strategies that guide the coop.