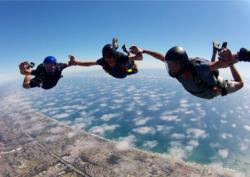 Oceanside, Calif. (PRWEB) November 05, 2012
Oceanside, San Diego's North Shore, takes the stress out of holiday gift giving with a host of unique offerings that are sure to also make that special someone's bucket list of things to do in this lifetime. This relaxed Southern California beach town offers a selection of new, unique and once-in-a-lifetime experiences that are all within easy reach and sure to be favorite gifts for years to come.
New! Only Coastal Skydiving in Southern California
Whether you are 18 or 90, skydiving is a popular activity for a bucket list and a fun holiday gift. In Oceanside, visitors can take the plunge while enjoying spectacular views of the Southern California coast. Oceanside's new Tsunami Skydivers offers the only coastal skydiving experience in Southern California. Jumpers take off and land from Oceanside Municipal Airport and enjoy coastline views as they make their descent from 12,000 feet.
New! Coastal Biplane Aerial Tour
If jumping from a plane isn't their style, a ride in a vintage biplane may be the next best thing. New this summer, Coastal Aero Scenic is offering flights in a 1941 restored Waco Biplane out of Oceanside Municipal Airport. The biplane can hold two passengers in its open-air cockpit and tours provide breathtaking views of the coast.
Custom Surfboards
Every surfer's dream is to ride the waves on a custom board made just for them. In Oceanside, visitors have their pick from over a dozen surfboard manufacturers, many of which manufacture their creations in an area called "shaper's alley" near Oceanside airport. Oceanside has been at the forefront of surfboard design and manufacturing since the 1950s and is home to popular and well-known shapers such as Donald Takayama (Hawaiian Pro Designs), Gary Linden (Linden Surfboards), Michael Baron (Byrne Surfboards), Jason Bennett (Chemistry Surfboards), Javier Huarcaya (XTR), Hank Byzak (Pure Fun Longboards), Mike Hynson, and Pat Mulhern (Wave Riding Vehicles).
Run, Bike or Swim in a Race
Whether the goal is a marathon, triathlon or endurance bike race, fitness challenges are a bucket list favorite and can even be a gift to give yourself this season. Oceanside is a perfect place to not only train for a race, but also participate. Fitness-minded travelers of all levels and abilities are drawn to the area because of the abundant recreational options, year-round outdoor-oriented climate and the opportunity to be participants in top-notch athletic events including California Ironman 70.3 Triathlon, Race Across America bike race, the World Body Surfing Championships, Labor Day Pier Swim and Bike the Coast-Taste the Coast.
Witness a Green Flash
Short on cash? Catching sight of the elusive "green flash" as the sun sets is free and something everyone should see once in their lifetime. Oceanside's famous wooden pier provides the perfect vantage point for seeing a green flash- especially on evenings with a clear horizon over the water.
Eat, Pray, Love in Oceanside
If all you or your loved one needs this holiday season is some time away from the hustle and bustle of daily life, how about reaping the benefits of peace, serenity and inner reflection at Oceanside's Prince of Peace Abbey. Nestled in the quiet hillsides of northwest Oceanside, Prince of Peace Abbey monastery is open to guests and the public for silent prayer or for participation in the Mass and prayer services of the monks throughout the day. Groups or individuals may also reserve time, space, room and board for their own retreat and reflection programs at the monastery.
About Oceanside
Centrally located in the heart of the beautiful Southern California coastline, Oceanside is considered the gateway city between metropolitan San Diego and Los Angeles. A classic Southern California beach town, Oceanside's central location offers visitors an ideal place to stay and experience California's casual spirit. With 3.5 miles of sandy beach, a quaint New England-style harbor, California's longest wooden pier and a stellar year-round climate, Oceanside is an ideal place for enjoying active pursuits including surfing, kayaking, boating, fishing, bike-riding and more. The city also boasts a number of important cultural attractions including Mission San Luis Rey (The King of Missions), the California Surf Museum and the Oceanside Museum of Art.