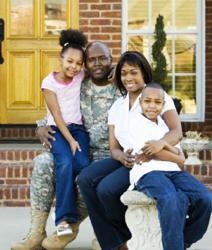 Houston, Texas (PRWEB) November 07, 2012
Buying a home for veterans can be made easy or hard depending on which VA lender you choose to help you finance a VA home loan. Recently, Security American Realty, a Real Estate Company in Texas, sponsored educational classes near their corporate office to help veterans get the most out of owning a home using VA home loan benefits. Real Estate Agents from Security American Realty as well as VA mortgage experts also hosted a special seminar over financial perks and realistic expectations over the cost of owning a home.
When taking a summary of all expenses we have:

Earnest Money: $500 (or more) In Addition to the Sales Price
Appraisal: $325 Lenders Fee
Option Money: $100 Optional (not recommended)
Home Inspection: $250 (or more depending on the size of the home)
AVERAGE TOTAL: $1,175 Minimum
According to the experts of VA mortgage and real estate processes, the 'secret' of getting a great deal is not a secret at all once you ask anyone who has worked in the industry of home purchases - that buying a home will cost anyone (even veterans) money. The trick, though, is not about finding the best price as much as it is about finding a specialized VA lender and/or real estate agent. These are the two key characters in helping a military family find the right home and get processed through the VA home loan application process quickly.
As you can see, it does cost money to buy a home. You will have to come up with the earnest money to even have a contract accepted. You must be prepared for this before deciding to purchase your next home!
There are many situations in which using the VA mortgage program is an excellent option. If you are a veteran or active duty personnel who meets the requirements for the VA home loan, this is often the best option for financing a home purchase. Here are ten reasons why.
1. Veterans Can Take Advantage of 100% Finance For Home Loans
Unlike with conventional and FHA loans, you do not have to make a down payment with the VA home loan. This means that you can probably afford to buy a house much sooner than you anticipate, since you do not have to spend the time and energy saving money.
2. No PMI (Home Owners Insurance) Required
PMI is mortgage insurance that you have to buy along with some loans. It protects lenders against loss if the borrower defaults on the loan. The VA mortgage program is set up so that the buyer (veteran) does not have to to buy PMI since VA does this on the buyer's behalf. This VA benefit can save a home buyer hundreds or even thousands of dollars.
3. Veterans Qualify with Lower Credit Scores- Beginning at 620
Many traditional home loans require much higher minimum credit scores than the VA home loan. This means that even borrowers with damaged credit may be able to qualify for the VA home loan purchase, with no money down and little credit. It can be an important step toward owning a home when a veteran is concerned.
4. VA Mortgage Interest Rates are Low
The VA home loan comes with a very low interest rate. In fact, veterans can obtain the same rates as FHA home loans, which tend to be lower than conventional mortgage costs. The best part is that you can have this low interest rate and still avoid the PMI.
5. Veteran Sellers Allowed Concessions
Seller concessions are permitted under the VA home loan, which means that you can bargain for a more favorable set of terms when purchasing your new home. This often means low out of pocket expenses for you.
6. VA Funding Fee or Upfront Closing Cost Is Waived for Disabled Veterans.
The VA charges up-front fees, which are still lower than other mortgage fee types, are waived for any veterans or servicemen and women who have a 10% or greater disability rating.
7. Veterans Benefit From Higher VA Mortgage Loan Limits
The VA loan limit begins at $417,000 and varies in amounts up to $600,000 depending on the county and state of the resident. Most counties' in the U.S. have FHA loan limits that are much lower than this allowed benefit, which means veterans will be able to buy a larger or nicer house with a VA home loan. In high-cost counties, limits can be as high as $1 million.
8. Obtain a Jumbo VA Loan - with non-jumbo interest rates.
Those who qualify for the VA home loan can purchase a home with a loan amount greater than the loan limit while still using the regular low VA interest rate. In other words, veterans who qualify can get Jumbo VA loans with low non-jumbo interest rates in amounts up to $1,000,000. This is not the case with conventional or FHA loans.
9. Active Duty Personnel, Reserves, & National Guard ARE Eligible for VA Loan Benefits
Active duty military personnel who have served the minimum amount of service time qualify for the VA home loan. This means that the VA mortgage benefit is available to both veterans and active duty personnel. Many people do not realize this!
10. VA Mortgage Experts Ready to Help 24/7
VA Experts with approved NMLS Licenses are readily available to veterans and they are qualified VA home loan experts. Many veterans and active duty personnel have gone through the process of obtaining a VA home loan with ease and security thanks to companies who focus their energy on veterans and helping military obtain homes.
Due to the growing support for veterans, military families are encouraged to seek out referrals from fellow military members who have either worked with VA specialized lenders and real estate companies who make it their mission, like Security American Realty, in helping military heroes find a place to call home.