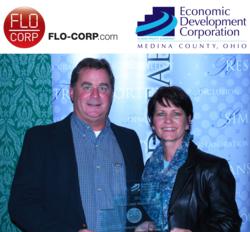 FLO-CORP increased revenues by 238% in 2011.
Wadsworth, OH (PRWEB) November 02, 2012
Dave & Kathy Grumney, President and Vice President of FLO-CORP, accepted the Entrepreneur of the Year award at the 2012 Medina County Business Awards program. FLO-CORP is recognized as a business located in Medina County that performs at an exceptional level by demonstrating substantial innovation in product, product methods, market creation/development, and/or demonstrating rapid growth or potential for significant growth.
Tim Phillips, President of Westfield Bank and award presenter, noted an area of exceptional performance; FLO-CORP increased revenues by 238% in 2011. One contributing factor to FLO-CORP's growth was the development of a SmartOil Management System for measuring the volume of cooking oil in tanks. This innovative system has been installed in Walmart facilities allowing executives to remotely monitor the entire cooking oil inventory in retail stores across the nation. This type of monitoring technology is unique in the food industry and is a cost-saving system for Walmart.
Beyond oil management systems, FLO-CORP has extended its national and international reach in the industrial flow, level, and process display markets through both direct sales and recruiting new sales reps with a customer base including Shell Products, Pepsi, Nike, General Motors, The Ohio State University, PPG Industries and more.
The 280 guests at the awards program were also given unique business insights from a panel of four entrepreneurs as part of the 2012 Autumn Speaker Series. Sean Brauser (Romeo's Pizza), Vicki Tilfft (Clinical Research Management), Larry Johns (McJak Candy Company), and Dave Mueller (RICO Equipment) participated in the panel discussion sharing lessons on the growth and development of their companies. Panelists shared both successful tactics and plans that required redirection while encouraging would-be entrepreneurs to press forward amidst adversity. This panel was of particular benefit to the Medina Young Entrepreneurs Academy (YEA), who were in attendance at the Blair Center in Westfield Center, Ohio.
Tim Phillips credited FLO-CORP with "creating a new path to success" and the evening came to a close as Dave Grumney gave his acceptance speech thanking Robin Laubaugh, Mayor of Wadsworth, for her warm welcome of FLO-CORP to the Medina County community where she visited his facility within a week of their arrival in Wadsworth. Mr. Grumney also thanked his team at FLO-CORP, turning to them and explaining, "this award is yours". And before stepping away from the podium Dave Grumney shared FLO-CORP's mission statement with the packed room, "To Give God ALL the Glory".
Watch Dave Grumney's acceptance speech.
Read the MCEDC Press Release.
About the Medina County Economic Development Corporation
The Medina County Economic Development Corporation (MCEDC) is a public/private nonprofit organization that has been serving the interests of the commercial and industrial sectors of the county since 1986. With membership composed of a wide variety of companies, governmental entities and educational institutions, MCEDC's members are stakeholders taking a proactive stance to positively impact the economic vitality of the county and the region.
http://www.medinacounty.org
About FLO-CORP
FLO-CORP (Flow Line Options Corp.) is committed to providing properly selected and configured flow, level, and display products with a focus on innovation and customer service. In 1988, FLO-CORP was incorporated in the State of Ohio and started as a small distribution company. In the last five years, FLO-CORP has moved past distribution and into manufacturing our own line of products. Through manufacturing, we have gained more control over origin of product, quality, and lead times. Furthermore, FLO-CORP now has creative control in the development of new products. We can focus on adding the functionality and features that will best serve our customers. FLO-CORP's management of quality, lead times, and innovation come together allowing us to provide more product value to our customers. We remain committed to personal customer interaction, where help can still be found without hearing an automated phone system. The FLO-CORP family is dedicated to working hard for our customers by using over three decades of combined experience in flow, level, and display.
http://www.flo-corp.com