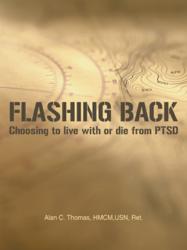 Recovery from PTSD is a lifelong journey
Greensboro, Georgia (PRWEB) November 03, 2012
Post-Traumatic Stress Disorder, or PTSD, is known to seriously affect millions of military personnel and civilians each year. Alan C. Thomas, who was the sole survivor of a 13-person squad of Marines and their medic, knows this fact well.
But many other types of less obvious trauma, such as a traffic accident, can also cause PTSD. In fact, an article published in American Family Physician says that car crashes have become the leading cause of PTSD since the Vietnam War.
Regardless of what spurred the disease, Thomas wants victims of PTSD to know that there is hope because there is a way to heal. That's the main message of his new guidebook, Flashing Back: Choosing to Live With or Die From PTSD.
"Recovery from PTSD is a lifelong journey," Thomas says. "But it's one that I choose to continue on each day, and each day my symptoms get a little better. Given the choice between living with it or dying from it, I chose life."
Thomas' book draws upon experiences from his 40-year struggle with PTSD to give readers the tools needed to begin moving on with their lives. Flashing Back ultimately answers a question that resonates with many Americans: 'how do I heal from PTSD?'
For more information, visit http://www.alan-c-thomas-published-author.ws.
Flashing Back: Choosing to Live With or Die From PTSD
By Alan C. Thomas
ISBN: 978-1-45820-550-6
Approx. 134 pages
E-book format only
Retail price of e-book: $5.95
Available at BarnesandNoble.com
About the author
Alan C. Thomas, HMCM/USN, Ret. served on active duty as a U.S. Navy Hospital Corpsman/ Medic from 1967 to 1970. His duty stations included three naval hospitals and overseas assignments aboard a Submarine Tender, and in the field with detachments of the 3rd and 5th divisions of U.S. Marines in Vietnam. Thomas was assigned to a Marine squad in Quang Tri Province, Vietnam during the Studies and Observation Group (S.O.G.) mission "Sunrise" on February 23, 1970. Following his honorable discharge in 1970, Thomas served in the Naval Reserves and graduated with a bachelor's degree in environmental health from the University of Georgia. Thomas retired as the manager of environmental health programs for The Colonial Williamsburg Foundation after 20 years of service in 2008. Thomas is a life member of the Disabled American Veterans (DAV).
# # #
**FOR IMMEDIATE RELEASE**
EDITORS: For review copies or interview requests, contact:
Liz Mensching
Phone: 317-602-7137
Email: lmensching(at)bohlsengroup(dot)com
(When requesting a review copy, please provide a street address.)