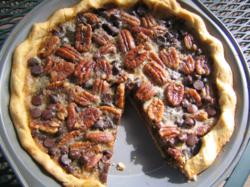 "No one should feel left out during this special season, especially at the dinner table," says Fenster.
Denver, CO (PRWEB) November 05, 2012
Gluten-free folks can still enjoy pies, stuffing, and breads during the holidays―even though these foods are traditionally made with gluten-containing wheat flour―if they follow these tips for preparing them from Carol Fenster, a gluten-free cooking expert and blogger at CarolFensterCooks.com
"Holiday traditions focus on our favorite foods, which are typically made with wheat. I developed gluten-free recipes to make them without wheat and also developed time-saving tips for busy cooks," says Fenster, author of Gluten-Free 101, a cookbook that uses gluten-free flours in place of wheat flour.
"No one should feel left out during this special season, especially at the dinner table," says Fenster. This includes the 3 million Americans with celiac disease, an autoimmune condition in which gluten damages the ability to absorb nutrients as well as the 18 million with non-celiac gluten sensitivity. "When you serve people the food they love (minus the harmful ingredients that make them sick) everyone is happy," she says. Fenster offers the following tips so everyone can safely indulge―especially in pie, stuffing, and bread―during the holidays.
Puzzled by Pie Crust?
For quick and easy assembly, make the gluten-free dough in a food processor and press it into a fluted-edge pie dish or tart pan with your fingertips. This makes a professional-looking pie crust without having to roll the dough with a rolling pin or make fancy shapes around the edges. To save time on the big day, shape the crust in the pan ahead of time and freeze, tightly-wrapped. Thaw in the refrigerator overnight and add the filling on the morning of the dinner and bake. Or, buy a ready-made gluten-free pie crust, available at health food stores. "No one will know that your holiday pie―whether it's pumpkin, pecan, or mincemeat― took a shortcut," says Fenster, who has mastered these techniques after writing ten gluten-free cookbooks.
Stumped by Stuffing?
Use your favorite recipe for stuffing, but use the same quantity of gluten-free bread instead. Stuffing texture is more dependent on the amount of liquid used and whether it is baked inside the bird or separately, rather than the type of bread, says Fenster. Trim crusts for more even browning, cut into cubes, and dry out in a 300 degree oven so the bread can better absorb liquids and the flavors from the seasonings, says Fenster. "Bake it in a dish like bread pudding, which is far easier than wrestling with packing it into the bird―and safer because the stuffing bakes more evenly," says Fenster.
Bewildered by Bread?
Instead of dinner rolls (which Fenster says are hard for beginning cooks to shape because gluten-free dough is very soft and sticky), make French baguettes which bake quickly because they are thin and narrow. For ease, assemble the dough in a food processor. Use a metal, spring-action ice cream scoop to drop uniform balls of dough into the three trenches of a French baguette pan, then shape the dough into long narrow logs with a wet spatula and let them rise. Pop them into the oven while the turkey rests. By the time the turkey is carved and the side dishes are done, the bread is ready for slicing, piping hot from the oven and tantalizing guests with its heavenly aroma.
Or, for a really simple approach, bake yeast bread dough in muffin pans, says Fenster, who offers other time-saving recipes at her weekly online cookbook GFreeCuisine. For those who want a plant-based gluten-free meal, Fenster also vegetarian fare in her cookbook, 125 Gluten-Free Vegetarian Recipes.