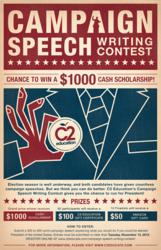 Atlanta, GA (PRWEB) November 05, 2012
In an effort to encourage students to be more involved in local and national politics, C2 Education is sponsoring a Campaign Speech Writing Contest this election season. Entrants will be competing for a $1,000 cash scholarship.
With election day upon us, the deadline for new entries is almost here. Students who wish to enter the writing contest must submit their written speeches online no later than November 13.
To enter, students must compose a 300 to 400 word long campaign speech explaining what they would do if they could be elected President of the United States of America. A judging panel will select the top 10 finalists, each of whom will receive a $50 Amazon gift card. The top ten entries will be posted to C2 Education's website where voting will be open to the public.
When asked why the final outcome of the contest was to be determined by public votes rather than by a panel of judges, C2 Education CEO David Kim responded, "While we obviously want to reward the student who submits the best speech, we also want to encourage students to engage in their communities and to pay attention to the events in the world around them. By opening voting to the public, we are injecting a sense of democracy into a contest that was inspired by the election season."
ABOUT C2 EDUCATION:
C2 Education was founded as an in-home tutoring service run out of a Harvard dorm room in 1997. From those humble beginnings, C2 has grown to include more than 120 tutoring centers across the country serving thousands of students each week. C2 students enjoy fully customized programs, one-on-one interaction with highly qualified teachers, and the support needed to succeed throughout their educational careers. C2's results speak for themselves: C2 students increase their SAT scores by an average of 350 points, 100% of C2 students pass state standardized tests, and 85% of C2 students go on to attend a top 50 college or university. For more information about C2 Education, please visit http://www.c2educate.com or call (800) 777 - 7000.