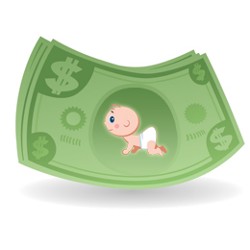 American parents spend $1,600 to diaper a child for two years using disposable diapers.
Virginia Beach, VA (PRWEB) November 03, 2012
With the cost of disposable diapers expected to rise over the coming months, online retailer Diaper Junction is launching the "Stash Cash" rewards program to reduce the cost of diapering through the use of cloth diapers.
American parents spend an estimated $1,600 to diaper a child for two years using disposable diapers. And costs are expected to increase due to concerns over a potential global shortage of disposables diapers. Both Kimberly-Clark and Procter and Gamble -- the two largest suppliers of disposable diapers in the United States -- raised the prices on both disposable diapers and diaper wipes. Raising prices could be related to a September explosion and fire that crippled a Japanese plant responsible for manufacturing one-fifth of the world's supply of the gel used in the lining of disposable diapers.
To help parents save on diapering costs and to ease the transition from disposable to reusable cloth diapers, Diaper Junction will use the "Stash Cash" rewards program to give back 5% toward future purchases. Stash Cash is Diaper Junction's own brand of currency and it allows parents to earn points to spend toward the purchase of cloth diapers, diaper covers and other cloth diapering accessories at DiaperJunction.com. Customers receive 1 point for every dollar spent. Stash Cash points are redeemable much like coupons or gift certificates.
About Cloth Diapers:
As the popularity of disposable diapers rose significantly in the 1960s and 1970s, cloth diapers were considered by many to be inconvenient or too time-consuming to use. Today's cloth diapers, however, feature modern and efficient designs that make them easy to use and highly absorbent. The re-usability of cloth diapers make them eco-friendly and breathable.
About Diaper Junction:
Find Diaper Junction online at DiaperJunction.com. For news and updates about Diaper Junction, visit Facebook.com/DiaperJunction, YouTube.com/user/DiaperJunction and Twitter.com/diaper_junction.
Diaper Junction is a 3dcart ecommerce website dedicated to promoting the benefits of cloth diapers. Diaper Junction is secured by GeoTrust.