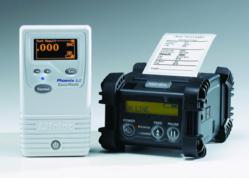 "Recent innovations include Bluetooth enabled professional breathalyzers"
Wheat Ridge, CO (PRWEB) November 10, 2012
Lifeloc Technologies (OTC: LCTC) is proud to announce its selection by CAMT, the Colorado affiliate of the National Institute of Standards and Technology, Manufacturing Extension Partnership (NIST MEP) as a featured manufacturer for its national "Make it in America Campaign."
The "Make it in America" campaign showcases the contributions of US companies who reaffirm through their success that our country's manufacturers can succeed and grow through innovation, export development and employing the workforce of the future.
Founded in 1983, Lifeloc Technologies is a leading American manufacturer and distributor of professional breath alcohol testing products. Recent innovations include it's new line of Bluetooth enabled evidential breath alcohol testers for law enforcement and workplace testing. Using advanced fuel cell sensing and wireless communication, these instruments dramatically improve testing mobility and productivity for those charged with keeping our roads and workplaces safe.
Lifeloc was submitted for recognition by the Colorado Association for Manufacturing and Technology (CAMT). CAMT assisted Lifeloc with technology transfer, product innovation and facilitated a strategic partnership with NASA for the development of advanced alcohol sensors. Featured "Made in America" companies are "ordinary" in the sense that they represent small and mid-sized businesses in America. What's extraordinary about these companies is that they have embraced a forward-thinking business approach and have worked with the NIST MEP network to invest in innovation.
This release includes statements that constitute "forward-looking statements" under the securities laws. Forward-looking statements often contain words such as "believe", "expect," "plans", "strategy", "prospects", "estimate", "project", "target", "anticipate", "will", "should", "see," "guidance", "confident" and similar terms. Forward-looking statements may include, among other things, statements relating to future and estimated sales, earnings, cash flow, results of operations, uses of cash and other measures of financial performance. All forward-looking statements involve risks, uncertainties and assumptions that may cause actual results to differ materially from those expressed or implied in the forward-looking statements. Risks and
uncertainties include, without limitation, the effect of economic conditions in the markets in which we operate,the financial condition of our customers and suppliers; delays and disruption in delivery of materials and services from suppliers; potential intellectual property infringement by third parties; potential legal proceedings initiated against us; the effect of changes in tax, environmental and other laws and regulations and political conditions in states and countries in which we sell our products and other factors beyond our control. These forward-looking statements speak only as of the date of this release and we undertake no obligation to update or revise any forward-looking statements after we distribute this release. For additional information identifying factors that may cause actual results to vary materially from those stated in the forward-looking statements, see our reports on Forms 10-K, 10-Q and 8-K filed with the SEC from time to time, including, but not limited to, the information included in our Forms 10-K and 10-Q under the headings "Business","Risk Factors","Management's Discussion and Analysis of Financial Condition and Results of Operations" and "Legal
Proceedings" and in the notes to the financial statements included in our Forms 10-K and 10-Q.