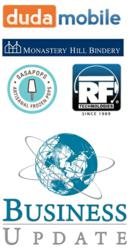 Jupiter, FL (PRWEB) November 02, 2012
DMG Productions announced today that an upcoming episode of Business Update: Food Service in America, centered on the foodservice industry will be airing on November 18, 2012, at 2:30 p.m. EST on Fox Business.
This episode will take viewers behind the scenes of the culinary world, featuring companies like Duda Mobile, a leading do-it-yourself mobile website builder. This company's mobile website creation platform makes it easy for local businesses to go mobile by using their existing desktop website. Television audiences nationwide will be amazed at how the fast-paced restaurant industry is making the mobile transition.
Business Update: Food Service in America will also feature Monastery Hill Bindery, a company who serves the restaurant and hotel industries by providing high quality menu display items. Monastery Hill Bindery got its start as a bookbinding business in 1868. Audiences will be impressed by their commitment to detail and quality craftsmanship, which is keeping them ahead of the quickly evolving foodservice industry.
In addition, Business Update: Food Service in America will include Sasa Pops by Sasa Sweets and R.F. Technologies, Inc. SasaPops by SasaSweets are gourmet, natural frozen dessert and fruit pops. SasaPops fruit pops are the purest pops ever made using only three ingredients: fruit, water, and organic cane sugar. Business Update: Food Services in America will educate viewers on how SasaSweets makes their SasaPops, using only the freshest, high quality ingredients.
R.F. Technologies, Inc. is a leading provider to the Quick Service Restaurants (QSR) Industry. R.F. Technologies, Inc. helps QSRs increase their intelligence about their drive-through performance. Television viewers will be astonished as they learn how R.F. Technologies, Inc. is helping establishments increase profitability with a better drive-through system.
"This episode of Business Update: Food Service in America is going to be truly amazing," said Sarah Cass, Creative Director for DMG Productions. "We're really looking forward to watching everything come together in this episode airing on November 18th, and we hope everyone tunes in to watch as Business Update: Food Service in America takes a behind-the-scenes look at the foodservice industry."
About Business Update:
Business Update is a corporate-America type series covering the world of business, finance and technology. From Main Street to Wall Street, our award-winning producers take an in-depth look into some of the hottest topics and current trends impacting our society.
About DMG Productions:
The DMG production team consists of producers, cameraman and editors that have worked for CNN, TLC, Discovery, and other major news and cable networks. Our staff includes personnel specialized in various fields from agriculture to medicine, independent films to regional news. Our field producers utilize the core concepts from our producers who storyboard our programs, and work closely with experts in the field to develop the educational programs. This powerful force enables us to consistently produce commercial-free, educational programming that both viewers and networks depend on.
Contact:
Sarah Cass
Creative Director / DMG Productions
(866) 496-4065 X 802
sarah(at)dmgproductions(dot)org