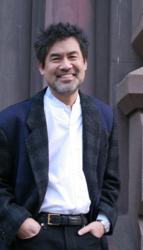 New Orleans, LA (PRWEB) November 01, 2012
Tony Award-winner David Henry Hwang, best known as the author of "M. Butterfly" and "Chinglish," will offer two presentations at Loyola University New Orleans Monday, Nov. 5 in Nunemaker Auditorium in Monroe Hall. Both events are free and open to the public.
Hwang's Loyola appearances come just two months after receiving the $200,000 Steinberg award for playwriting, theater's most generous prize, for 32 years of provocative satires and dramas that brought more Asian and Asian-American characters to Broadway and other stages.
At 5 p.m., David Henry Hwang will participate in an hour-long, on-stage interview about his experiences working with some of the most talented composers and conductors of the 21st century. The forum, which is part of the "Get Inforumed" speaker series in the Department of Music Industry Studies, will be streamed live online.
At 7 p.m., he will shift gears to lead a multidisciplinary panel lecture. He'll discuss both the creative license and the commercial parameters afforded by writing for public settings, and his collaborations with composers. While at Loyola, Hwang will also lead a 75-minute workshop for students in Loyola's Department of Theatre Arts and Dance.
Throughout his career, David Henry Hwang has explored the complexities of forging Eastern and Western cultures in contemporary America. In 2011, Time Magazine named his play "Chinglish" one of the top 10 plays and musicals of the year. "M. Butterfly," often cited as his most notable work, ran for two years on Broadway and won the 1988 Tony, Drama Desk, John Gassner and Outer Critics Circle Awards. It was also a finalist for the 1989 Pulitzer Prize. The play enjoyed a one-year run on London's West End and has been produced in more than 40 countries to date.
David Henry Hwang wrote the libretto to Howard Shore's opera "The Fly," based on David Cronenberg's 1986 horror film of the same name. The opera premiered in 2008 at the Théâtre du Châtelet in Paris, with Cronenberg as director and the legendary Plácido Domingo conducting.
The "M. Butterfly" playwright was also the librettist for "Tarzan," the hit Broadway musical based on a film by Walt Disney Pictures. He and director Robert Falls co-wrote the book for the musical "Aida," with music and lyrics by Elton John and Tim Rice, which opened in 2000 to great box office success.
David Henry Hwang's play "Golden Child" premiered off-Broadway at the Joseph Papp Public Theatre, received a 1997 OBIE Award for playwriting and subsequently moved to Broadway, where it received three 1998 Tony Award nominations, including Best New Play. His play "Yellow Face," which premiered at Los Angeles' Mark Taper Forum and New York's Public Theater, won a 2008 OBIE Award and was also a finalist for the Pulitzer Prize. Don't miss the "M. Butterfly" playwright speak at Nunemaker Auditorium on Monday, Nov. 5.
For more information, contact Jess Brown in Loyola's Office of Public Affairs at jlbrown(at)loyno(dot)edu or 504-861-5882.